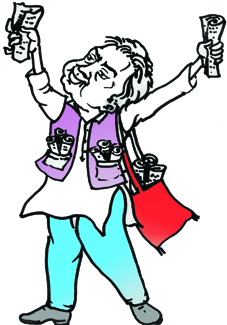 Showcasing Culture in Business
For chief minister, Naveen Patnaik the recently concluded  Make in Odisha conclave was not just an opportunity to promote business and industry. He also used it to showcase state's rich art and cultural heritage. A connoisseur of arts he  personally  interacted  with  artists  and  even commented upon their  work in his tweets. He appeared to be particularly interested in tribal musician, Kanhu Charan Tudu. " Pleased to meet popular tribal musician and singer Kanhu Charan Tudu from Mayurbhanj on sidelines of #MakeInOdisha2018. A versatile talent from Santal community he plays traditional flute, string instrument Banam with elegance and has recorded many tribal soulful songs," wrote Naveen on Twitter.
Mishra Speculation
There is growing speculation over who would be the BJP candidate from  Sambalpur  in the next elections with party veteran, Jaynarayan  Mishra, who has won the seat thrice  in the past, not only keeping indifferent health but also getting embroiled in a series of controversies. Believed to be a hardliner who has had several brushes with the law in the past Mishra was arrested earlier this year in connection with the Banabira firing case in which three persons including labour minister, Sushant Singh's brother were injured. " Controversies have taken a toll on his image and fielding him from Sambalpur again would be a huge risk for the party," commented a BJP leader.
Oram's pace
Union tribal affairs minister and Sundergarh MP, Jual Oram has set a scorching pace that his rivals would find hard to match. Though elections are still a good six months away he has been touring his tribal-dominated constituency extensively and intensively, interacting with voters cutting across age and social divide. While he has sought to woo the youth by attending local football and hockey tournaments, so popular in the constituency he has endeared himself with the labour class by distributing job cards and kits to construction workers.  An engineer by training Oram has also been reporting his activities in Sundegarh faithfully on social media platforms such as Twitter.
Arukh's Struggle
Parliamentary affairs minister, Bikram Kesari Arukh is believed to be locked in a power struggle with his cabinet colleague, food supply and cooperation minister, Surjya Narayan Patro. Sources said that Arukh, who represents Bhanjanagar in the state assembly, is upset over the dominance of Patro in the affairs of Ganjam district to which both of them belong and which is also the home district of chief minister, Naveen Patnaik. Only till a few months ago it was Arukh who was calling the shots in Ganjam given his closeness to the chief minister. But power equations in the district have changed suddenly to the disadvantage of Arukh.