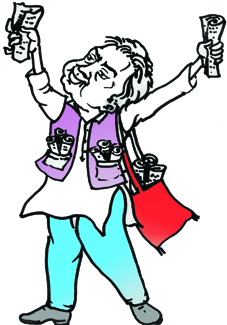 Butt of Jokes
Inaugurated last month by Prime Minister, Narendra Modi Jharsuguda airport has become a subject of unkind jokes and comments on the social media. Youngsters active on social media platforms like Facebook have been sharing memes to express their views on the state's latest airport.  While some of these talk about how the airport will remain empty for the better part of the day, thronged only by stray cows and dogs others say the airport will only be used during elections by politicians to land their private aircraft. Apparently the younger generation is not convinced about the utility of the airport and thinks that its inauguration was nothing short of a political stunt.
Speaking One's Mind
Ruling BJD's Dhenkanal MP, Tathagat Satpathy believes in speaking his mind. Following Supreme Court's much discussed judgement on Aadhar, Satpathy took to Twitter to express his views. "Unfortunate the Legislature has discovered a wily method of bunking responsibilities & weakening democracy. If I ever, ever, just ever become PM of India, I would definitely scrap Aadhaar. Legislation can always override stupid judgements," wrote the MP. The post drew some interesting comments, some not so complimentary. "U don't have that intellectual space to be the pm. Anyway I support bjd," wrote one follower while another said, "To be PM is impossible till the time Naveen Patnaik is there as party president & CM."
Brave Front
Though BJD leaders continue to put up a brave front the fulminations of former minister, Damodar Rout, who was expelled from the party sometime ago, is beginning to worry them. Sources in the ruling party admitted that Rout's statements against some senior BJD leaders and his campaign against alleged corruption in the government had unnerved the top party brass. "Irrespective of whether he is telling the truth or not his statements can cause irreparable damage to the party in an election year. Besides he can become the rallying point for other disgruntled leaders who had so far kept quiet," said a BJD leader.
Candidate Shortlisting
Short-listing of candidates by the Congress for the next elections is turning out to be an invidious exercise. Sources said factional war of the party has intensified with the first phase list of purported candidates getting leaked in the local media. The followers of former Pradesh Congress Committee (PCC) president, Prasad Harichandan are cut up as many of them do not find a place in the first list of candidates for 44 seats. The Pradesh  Election Committee (PEC) was, in fact, supposed to shortlist candidates for 50 seats in the first phase but it limited itself to just 44 seats on the first day because of growing dissatisfaction within the party. Besides now there is talk that the list that appeared in a section of the media is only partially correct