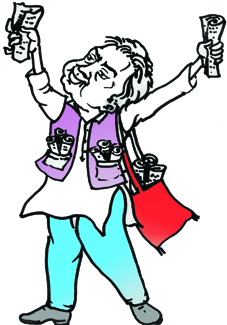 Hockey Politics
Chief minister, Naveen Patnaik is turning out to be a true patron of sports and sportspersons. He never misses an opportunity to encourage sportspersons irrespective of the discipline they belong to. Of course, hockey has a special place in his heart now that Odisha government is sponsoring both men's and women's national hockey teams.  The chief minister was pleased with the silver medal that the men's hockey team won in the Champions Trophy in Netherlands recently and the welcome accorded to the team on its return. " Nice to see the heart-warming welcome for Indian Hockey Team at Bengaluru after their valiant Silver medal in #ChampionsTrophy in Breda, the Netherlands; am sure there will be many more laurels in ensuing days #OdishaForHockey," Naveen wrote on his Twitter page.
Dama Babu's Rose
Former minister and senior BJD leader, Damodar Rout's comments on the fresh controversy over the sinking of Mongolian merchant ship, MV Black Rose off the Paradip coast in 2009 has raised many eyebrows within the party. There is a growing perception that the comments of Rout, who was dropped from the ministry sometime ago following his controversial remarks against Brahmins, were meant to embarrass a party MLA who is considered close to chief minister, Naveen Patnaik. "It seems deliberate. Party leadership will not appreciate it. A senior leader like him should be careful about what he says," remarked a BJD leader.
The Jamuna in Smart City
Bhubaneswar Municipal Corpration (BMC) and city mayor, Ananta Narayan Jena have been at the receiving end of public criticism following repeated water-logging in several parts of Bhubaneswar where any heavy shower spells a disaster. The flood like situation seen in the low lying areas of the city have spawned jokes that have been doing rounds of the social media. One young man wrote he regretted asking his father to gift him a new mo-bike on his birthday because he should have asked for a boat which is what one needs to navigate the flooded roads and streets of Bhubaneswar these days. Another posted a picture of mythological character, Basudeva carrying  the baby lord Krishna in a basket and crossing the flooded streets of the capital city which have begun to resemble river Yamuna.
Limited Spokes Persons
There is a hierarchy even among the official spokespersons of the ruling BJD who, according to sources, have been handpicked by chief minister, Naveen Patnaik. Only the select few among this chosen lot can speak on sensitive issues having a direct bearing on the government. For example, Mahanadi dispute and the controversy surrounding the key of Puri Jagannath temple Ratna Bhandar have been marked as sensitive issues with only one or two of the party spokespersons, considered extremely close to the chief minister,   allowed   to  speak to the media on these subjects. The party, said sources, has issued a stern warning to leaders against speaking out of turn.