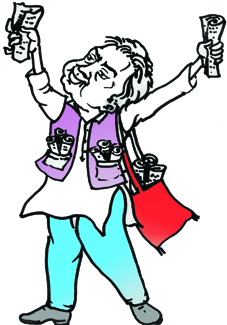 Verbal Volleys
Exchange of verbal volleys between ruling BJD leaders and union minister, Dharmendra Pradhan, who is widely perceived to be BJP's chief ministerial candidate in 2019, has become common with elections approaching. Pradhan recently was irked after being criticized for allegedly mis-spelling some Odia words in an invitation for an event tweeted by him. After being targeted by the ruling BJD for the spelling error the minister hit back saying he did not need any certificate from the Naveen Patnaik-led party. He even took pot-shots at the chief minister's poor Odia asking BJD leaders to make him ( Naveen) learn how to say " Jai Jagannath" clearly in the language.
 Impossible Feat
The state Congress leadership seems to have achieved the impossible feat of bringing about a rapprochement between Tara Prasad Bahinipati and Krushna Chandra Sagaria, the two party MLAs from Koraput  district who loved to hate each other. Sagaria, who recently embraced Buddhism, had even accused Bahinipati, who happens to be the party's chief whip, of making casteist remarks  against him. He was even critical of Bahinipati's wife, Meenakshi being made party's Koraput district unit president. However, after the recent state Congress coordination committee meeting in Bhubaneswar the two leaders were seen smiling at each other and exchanging pleasantries. They even told mediapersons  that there were no differences between them. "They have been asked to sink their differences in the larger interest of the party," remarked a senior party leader.
BJD Young Face
Health, law and information and public relations minister, Pratap Jena seems to be fast emerging as the young face of ruling BJD. If party sources are to be believed he is not only among the most trusted youth leaders of the party but has also made a mark as a minister. That the chief minister has faith in Jena's abilities is evident from the fact that he has been entrusted with important portfolios like health and law apart from information and public relations. What is more important is that he has  been contributing  significantly to strengthening the youth wing of the party that is set to play an important role in the 2019 elections. "That is what makes Jena specially precious for the chief minister," remarked a BJD leader.
Choudhury Struggles
Former   Bonei  MLA, Bhimsen Choudhury is struggling to keep himself politically afloat. Choudhary, who after being suspended from the BJP for defying the party whip in the 2010 Rajya Sabha elections had contested the 2014 assembly polls unsuccessfully on Congress ticket, is now with   the BJD. However, joining the ruling party has failed to change his political fortunes as he has come to acquire the tag of a turncoat. "How can people trust someone like him who has changed so many political parties. He needs to introspect," said a BJP leader who felt that Choudhury's political future was bleak.