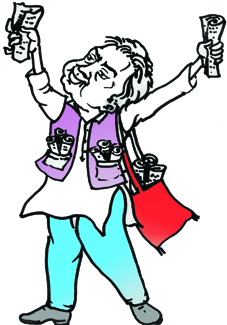 Pramila Falters
Addressing a Press conference in the state capital recently BJD Mahila Morcha chief and former minister, Pramila Mallick ranted and raved at Prime Minister, Narendra Modi accusing him of fooling the country's youth and making false promises to women under the Centre's Ujjwala yojana. At the same time she heaped praise on chief minister, Naveen Patnaik who, she said, had empowered women in the true sense of the term making a large number of them self-employed courtesy self-help groups. But Mallick faltered the moment a journalist asked her to provide statistics about women who the government had helped stand on their feet. "There are many many of them. The data is available at the block level," she said lamely.
Oram on Naveen
Union tribal affairs minister, Jual Oram is one of the worst critics of chief minister, Naveen Patnaik. Oram, who had slammed Naveen for entering into an MOU with a South Korean company for setting up a steel plant in the state in 2005 when BJD and BJP were running a coalition government, has sharpened his attacks on the chief minister with general elections approaching. However, the tribal veteran's attacks on Naveen and his government have not been taken kindly by the ruling BJD. While senior BJD leader and former minister, Debi Mishra described Oram's comments as politically motivated another party leader refused to attach any importance to them saying the union minister was in the habit of targeting the chief minister.
Ray's Future
Given Rourkela MLA, Dilip Ray's rather uneasy relationship with the BJP leadership there is growing speculation over his future. If sources in the state BJP are to be believed the party, upset as it is with his stand over the delay in the execution of second Brahmani bridge project and upgradation of IGH into a super-speciality hospital, was seriously looking for an alternative to him in the constituency. This, however, is not going to be easy given Ray's political stature and the tremendous resources at his command. "In such a situation he could very well contest as an independent which would make things extremely difficult for BJP," commented a party insider.
Unity Eludes Congress
Despite claims by the Congress party leadership that differences between its MLAs from Koraput district have been sorted out problems within the district unit of the party continue. Sources said while Koraput MLA, Krushna Chandra Sagaria and Jeypore legislator, Tara Prasad Bahinipati still do not see eye to eye on several issues many leaders from the district are upset with the leadership for making Tara's wife, Meenakshi Bahinipati the president of the party in Koraput. Party insiders said that the so-called patch-up between Tara Bahinipati and Sagaria was nothing more than a photo-op. Prompted by senior leaders the two MLAs had shaken hands and hugged each other at the Congress Bhavan in Bhubaneswar over a month ago.