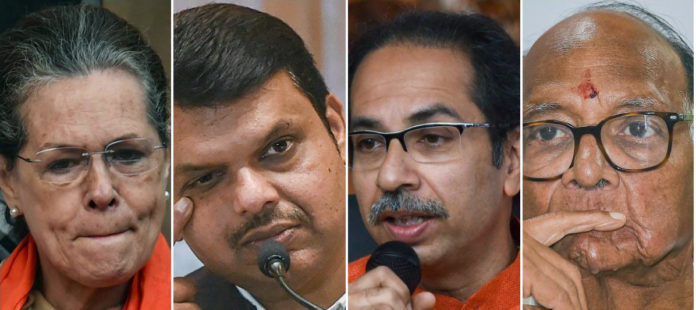 In Maharashtra and Haryana the BJP suffered a setback; because instead of focusing on local issues, it sought to highlight national issues such as revocation of Article 370 in Jammu and Kashmir and failed to give adequate importance to its regional satraps.
BJP despite emerging as the top party in Maharashtra and Haryana suffered a setback in these two states in the recent elections which indicated a fall in its popularity. The BJP, according to some observers, suffered because instead of focusing on local issues sought to highlight national issues such as revocation of Article 370 in Jammu and Kashmir.
Congress planned it better and made some gains. Top Congress leader Rahul Gandhi addressed seven election rallies in Maharashtra and Haryana while Prime Minister Narendra Modi and Union Home Minister Amit Shah addressed 42 rallies for the BJP. The Congress was left to the might of its local leaders and they did not disappoint.
In Maharashtra there was a sturdy performance by Sharad Pawar. He alone held 66 election rallies in Maharashtra winning 54 seats for the NCP and contributed hugely in the Congress winning 44.
For the BJP it was Narendra Modi on whom the party depended. There was a time when BJP had important regional satraps in Narendra Modi in Gujarat, Shivraj Singh Chauhan in Madhya Pradesh, Vasundhara Raje in Rajasthan, Raman Singh in Chhattisgarh, and Manohar Parrikar in Goa.
That seems to have changed. The results of the two state Assemblies – Maharashtra and Haryana, that went to polls on Monday, clearly indicate that its a setback for the BJP. Kerala chief minister, Pinarayi Vijayan spoke on the same lines recently.
"The BJP has suffered a setback from its often projected statement of one party rule. This has not happened in Maharashtra and Haryana as the results indicate. Elections to the two states took place a few months after the Lok Sabha polls and it is not according to the BJP's expectations," he said.
Vijayan was speaking to the media after all the five assembly bypoll results held in Kerala were out. The Left managed to wrest two seats from the Congress.
"The UDF is becoming insignificant as we look into the results which include the Pala assembly seat that we wrested last month from the UDF. In all six seats that went to the polls including Pala, we won three. Looking at it, after three years of our governance, these victories show that people have given their full support to us, as our base has grown. The BJP's divisive tactics has also been rejected outright by the people, giving a clear indication that in Kerala there is no place for communal divide," said Vijayan.
But Gandhis must learn a few lessons. The Gandhis – Sonia, Rahul and Priyanka Vadra – depend a lot on their respective band of advisors, who, in most cases, are not the ones always connected with the people. This is in sharp contrast to the BJP's leadership – the prime rival for the Congress. BJP's top leaders including Narendra Modi and Amit Shah have risen through the ranks finding their ways from booth-level work. This is what the Congress must learn like the BJP should learn to give importance to local issues in assembly polls.