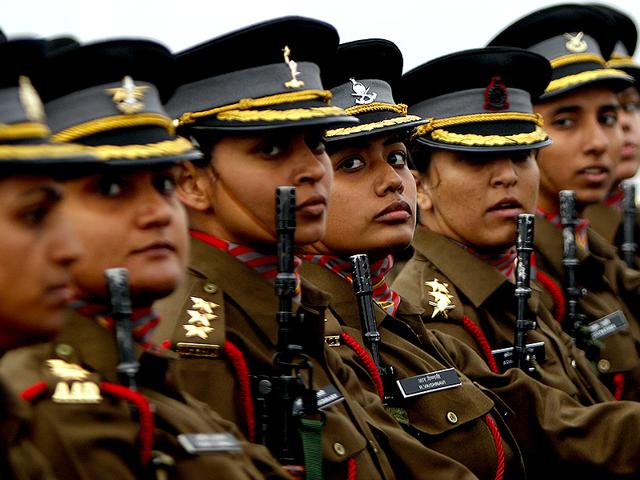 Presently, women are inducted in Indian Army through Short Service Commission (Technical) and Short Service Commission (Non-Technical) entries. The induction is governed by Special Army Instruction (SAI) I/93 and AI 3/98.
Women are inducted in all the branches and streams of Indian Air Force (IAF) service. Terms and conditions for women officers are issued from time to time.
In Indian Navy, women officers are inducted through Short Service Commission in Logistics, Law, Observers, Medical, Dental, Air Traffic Control (ATC), Pilots (Maritime Reconnaissance Stream), Naval Armament Inspectorate (NAI) cadre, Naval Architecture, Education, Sports and Musician Branch. Government has approved Grant of Permanent Commission to SSC Officers of NAI Cadre.
The women officers commissioned in the Defence Forces (excluding AMC, ADC and MNS) during the last three years is as under:-
| | | | |
| --- | --- | --- | --- |
| Year | Army | Navy | Air Force |
| 2016 | 69 | 44 | 108 |
| 2017 | 66 | 42 | 59 |
| 2018 | 75 | 29 | 59 |
The percentage of women officers in the three services of armed forces (excluding AMC, ADC and MNS) are as under:-
percentage of women officers
Army
Navy
Air Force
3.89%

(as on 01.01.2019)

6.7%

(as on 31.05.2019)

13.28%

(as on 01.06.2019)
Various measures have been taken by the Government to attract the women to join the armed forces. The Government has promulgated policy on February 25, 2019 to extend the grant of Permanent Commission to Women Officers in the eight arms/services in Indian Army viz. Signals, Engineers, Army Aviation, Army Air Defence, Electronics and Mechanical Engineers (EME), Army Service Corps, Army Ordnance Corps and Intelligence in addition to the existing two streams of Judge Advocate General (JAG) and Army Education Corps (AEC). Steps like increasing tenure of women officers and improving promotional prospects in Army have been taken to increase participation of women in the Army.
In addition to existing avenues viz. Logistics, Law, Observers, ATC, Pilot in Maritime Reconnaissance (MR) Stream, Naval Armament Inspectorate Cadre, Naval Architect and Education Branch induction of women into additional specialization viz. Sports and Musician has commenced w.e.f. March, 2019.
Women officers are inducted in all the branches and streams of IAF. Opportunities for a career in IAF service are widely publicized through print/electronic media and special publicity drives.
This information was given by Raksha Rajya Mantri Shri Shripad Naik in a written reply to Shri B.B. Patil in Lok Sabha