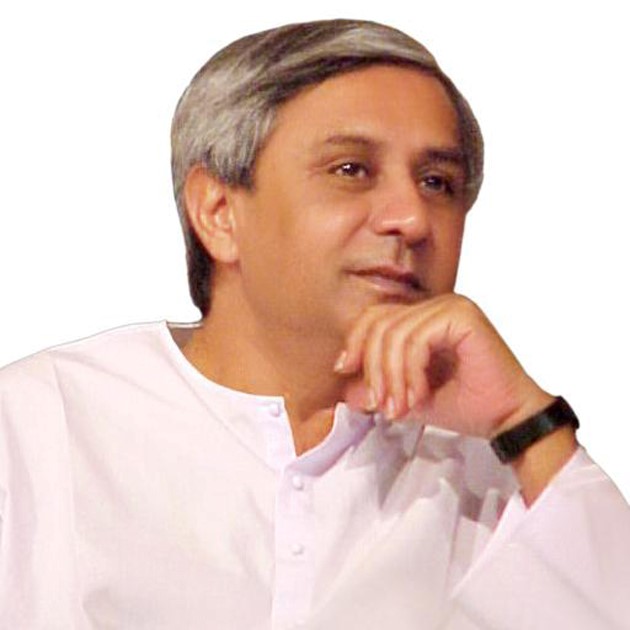 Chief minister Naveen Patnaik refused to rise to his Bihar counterpart Nitish Kumar's bait when he came calling recently. Kumar, who has been trying to unite anti-BJP opposition, wanted Patnaik to join his efforts but the latter showed little interest. Both leaders admitted that there was no discussion on any kind of alliance during their meeting. Patnaik's message was clear that he cherishes his neutrality and independence in politics. It suits him down to the ground.
Bihar chief minister Nitish Kumar, who has been touring different parts of the country trying to stitch up an alliance of opposition parties to take on the BJP in the next elections, called on his Odisha counterpart Naveen Patnaik at the latter's residence here recently. The meeting between the two leaders had been a major talking point in the political circles even before it actually took place. Much had been written about it the newspapers and TV channels had kept people's interest alive by repeatedly speculating on the possibility of Nitish being able to enlist the support of Patnaik in his endeavor.
In the event the May 9 meeting failed to live up to the hype. In fact, looking from a pure political angle, it was a damp squib as nothing came out of it.  Newshawks covering the event were disappointed as both the leaders admitted that the much-anticipated discussion on the formation of a united front against the Bhartiya Janata Party (BJP) did not take place. "There was no discussion on any political alliance," said Patnaik following the meeting, making it crystal clear that there was nothing political about their interaction at Naveen Nivas.
While the reluctance of Patnaik to discuss the possibility of an alliance of opposition parties must have left Nitish and his Janata Dal (U) disappointed, Odisha chief minister and Biju Janata Dal boss has his reasons not to be indifferent to efforts being made in this regard not only by his Bihar counterpart but also many other leaders of the country. West Bengal chief minister and Trinamool Congress supremoMamtaBannerjee and Telengana chief minister K Chandrashekhar Rao have also been meeting leaders across the country in the hope of stitching up such an alliance. However, so far, they have met with only limited success.
Unlike Mamta and KCR, who remain averse to the idea of including the Congress in such an alliance Nitish Kumar, who parted ways with the BJP in Bihar a few months ago, has been casting his net wide. Already being projected by a section of his party leaders as the opposition's prime ministerial face in 2024 he wants the entire opposition including the Congress to come under one umbrella. In the last few months he has met a number of leaders including former UP chief minister and Samajwadi Party boss Akhilesh Yadav.
But much as Nitish would like Odisha chief minister to join his efforts in bringing together non-BJP parties on a common platform Patnaik seems reluctant as he not only realizes the futility of trying to unite a disparate group of parties but also the fact that he is not going to gain anything from it. While Nitish has prime ministerial ambitions, which make such efforts meaningful for him, in the case of Patnaik, who has never shown any inclination for playing a role at the national level, it would appear to be a waste of time.
Nitish is not the first leader to have been cold shouldered by Patnaik as far as efforts at opposition unity are concerned. Before Nitish, West Bengal chief minister MamtaBannerjee had called on Patnaik at Naveen Nivas but no politics was discussed at that meeting, too. In fact, quizzed by journalists about what transpired at the meeting Mamta had advised them to speak to her separately if they had any politics-related questions. This was nothing but a face-saving tactic on her part as she knew that fielding questions from journalists before Patnaik would be awkward as she would have to admit openly that he had absolutely no interest in joining the efforts for the unity of opposition parties against BJP.
The fact is that Patnaik has been consciously following the policy of maintaining equidistance from Congress and the BJP ever since his party, Biju Janata Dal (BJD), broke its alliance with the BJP in the state. However, despite this he has maintained excellent relations with the central BJP leaders including Prime Minister Narendra Modi. His relationship with the top central BJP leaders has been mutually beneficial. For example, while his party has supported the BJP-led NDA government in the parliament on several crucial issues including the scrapping of article 370, the Centre has been generous in extending help to Odisha in the wake of natural disasters such as cyclones.
It is significant to note that Prime Minister Narendra Modi has refrained from criticizing Odisha chief minister even while campaigning for his party in the state during elections. Patnaik, too, has taken care not to make any personal attacks on the Prime Minister. While their mutual respect for each other has been a matter of embarrassment for state BJP leaders who are often criticized for engaging in a fixed bout with the BJD, it helps the NDA at the Centre, especially in a situation where the government lacks a majority in the upper House of parliament. It has to depend heavily on neutral regional satraps like Patnaik and Andhra Pradesh chief minister Jagan Reddy to get out of a tight spot in Rajya Sabha.
The Prime Minister realizes only too well that he cannot seek help in such situations from regional leaders like MamtaBannerjee or KCR who remain inimical to his government and have been trying hard to topple him. Hence, he has been consciously cultivating leaders like Patnaik and Jagan. The Odisha chief minister is also well aware of the fact that opposition being badly divided over the issue of forming a joint front against Modi with leaders like Mamta and KCR openly opposed to the Congress it would be counter-productive to join hands with them. Political neutrality while maintaining good relations with the Centre is a much better option for him. This way his state can gain in material terms and he can benefit politically because people of Odisha would continue to vote for him.
This is the reason Patnaik has consistently refrained from aligning with any political group or bloc at the national level. He has even consciously avoided commenting on the possibility of emergence of a Third Front consisting of regional parties, a cause being espoused by the likes of Mamta and KCR. His stand seems unlikely to change in the near future.
Being neutral is the best strategy for Naveen to follow. This way he can get handsome returns from the Centre while offering issue-based support to the NDA government. His popularity within Odisha keeps rising and if required he can also use his party's strength in the parliament to influence decisions at the national level. He has, thus, best of both worlds at the moment. Significantly, in election after election chief minister Naveen Patnaik has been playing the performance card while also raising regional issues which can strike a chord with the voters. For example, in three successive elections he has raised the issue of Odisha being denied justice in Mahanadi water distribution and state suffering on account of construction of Polavaram dam in Andhra Pradesh.
While Mahanadi issue pertains to Odisha's differences with Chhatisgarh which has raised several structures on Mahanadi on its side, thus affecting the flow of the river in Odisha, the Polavaram controversy has assumed importance in the context of the threat a bunch of tribal villages in Malkangiri face due to Polavaram multi-purpose project. On both these issues Patnaik has successfully worked up regional sentiments in the past and converted them into votes. He can do it again. His winning formula is thus clear—seek votes on performance and channelize the regional sentiments into popular support. With this formula working for him he does not need to align with any regional or national alliance or coalition to protect his state's interest. Being neutral and having a quid pro quo arrangement with the Centre works fine for him.