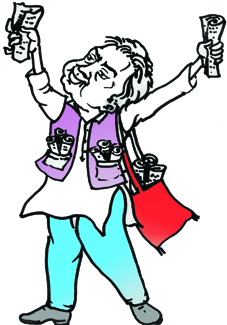 Identity Problem
One would recall that in the wake of a local scribe being beaten up by police former DGP, Prakash Mishra had suggested that media-persons be issued identity jackets to prevent such incidents. The suggestion has evoked mixed reactions with some appreciating the concern of the top cop but saying that this would, in fact, make the scribes more vulnerable to attacks. "  In this case, it might have been a case of misplaced identity. But jackets will make their identity obvious to one and all and expose them to attacks by vested interests. Police would find handling such cases much more difficult," said a journalist. He had a point but then what is the remedy?
Football Lover
Senior BJP legislature party leader, Jaynarayan Mishra played a lot of football during his younger days. He is still a keen football buff. Once greeted by a journalist he took the man for a club footballer and started a conversation. "I know you play football, which position do you play?" he asked taking the scribe by complete surprise. The latter, however, quickly recovered his wits and played on. But instead of speaking on the subject and getting caught, the scribe simply nodded his head which was encouragement enough for Mishra who waxed eloquent about the game of football for the next few minutes.
No Third Front
Third Front talk has stopped in the wake of elections. The experiment turned out to be a flop with no leader moving forward. Besides some key players did badly and West Bengal chief minister Mamta Bannerjee had her own agenda, Odisha chief minister, Naveen Patnaik has been clever enough to keep himself away from such experiments. He knows how to flow with the current and his experiments and hunches have always been correct. He is currently on excellent terms with Prime Minister, Narendra Modi and would like his relations to stay that way in the larger interest of the state.
Speculation Rife
There is speculation about who could be the next BJP president of the state. Among the names doing the rounds is that former minister, KV Singhdeo. Earlier when he was at the helm the party had made good progress in the state and his followers would expect him to put up a good show again. With his wife now the MP from Bolangir the veteran leader would also like to do his best for the party in the state. His advantage is that he has a lot experience and also knows how to take the entire party with him.