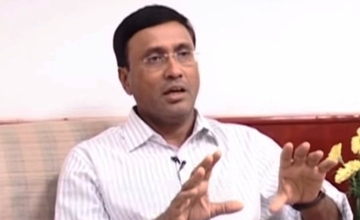 Chief Secretary Odisha ,Sri Asit Tripathy has emphasized upon maintaining social distance after the shut down period from 8PM today. He said, ' we can not get the benefits of shut down and lock down if we do not maintain the social distance. There is sufficient stock of essential commodities; and, people should not make a rush near the shops'.
Further Chief Secretary Sri Tripathy thanked the people of Bhubaneswar, Cuttack and Bhadrak towns who willingly cooperated to observe the shutdown for 48 hours. He also complemented the state police for enforcing the shutdown. Similarly, he thanked the Municipal authorities, health authorities and the district administration for the meticulous planning and execution with great deal of professionalism.He said, 'the surveillance teams are tracking all possible contacts of the positive cases and carrying out door to door surveillance in the Containment Zones. As a result, both in Surya Nagar and Bomikhal several more positive cases have been found. While further tracking and testing wherever necessary will be undertaken aggressively and the findings have attentively established
that the infection was brought from outside the state. To that extent, our fear of
community transmission has been allayed'.
What happens now?
We have few more cases in various areas of the State. During the lock down period, we need to contain these areas by a well planned and executed containment strategy so that not only the infection is contained within a limited area, but the probability of its spread is greatly reduced. And extensive tracking and testing of the potential cases will be done by the administration. If we follow this strategy, in future much larger areas will be spared of Shutdown. While the shutdown will be over at 8PM today, I would like the people of the state to appreciate that in various areas containment zones will be established as required to be decided by Municipal/District Administration who have power under Disaster Management Act, 2005. I expect the people to cooperate in the interest of public  health.Lastly, I have an important request to make. After 8 O'clock in theevening today, please do not rush to the markets to pick grocery and other stuff.It is extremely important to build on our gains during last two days. Let us not compromise on it by crowding and creating more chances of infection. Therefore, I request all concerned to observe strict social distancing. I request community leaders, opinion makers and aware citizens to take a leading role in helping the administration in this regard. Of course, police will also be advised to enforce the required social distancing in the interest of your own health.