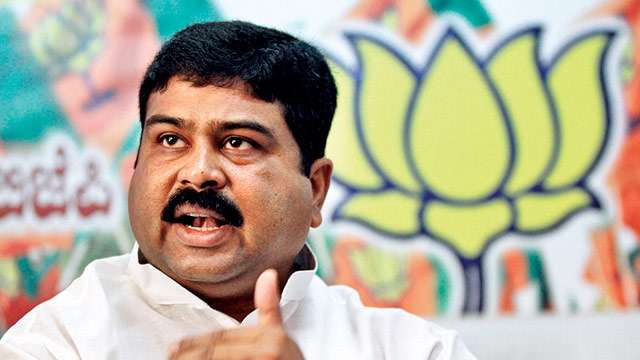 There is hardly anyone in the Odisha state BJP; who can be compared with Dharmendra Pradhan in terms of stature and power. Even former IAS officer, Aparajita Sarangi is yet to learn the political ropes while Pradhan is a master of the art.
The credit for BJP's impressive Lok Sabha performance in Odisha—the party won as many as eight seats against the one it had in 2014—should go to its poster boy, union minister, Dharmendra Pradhan, who led the campaign from the front. He has been justly rewarded with two weighty portfolios. While he has retained petroleum and natural gas, he now also has the important steel portfolio under his arms.
Pradhan has been state BJP's go to man and the confidant of party's highly respected leader and newly appointed union home minister, Amit Shah. During the campaign in Odisha he was everywhere and he was widely perceived to be BJP's chief ministerial candidate even though he did not contest. He is still seen as chief minister, Naveen Patnaik's prime political rival and his alternative.
Pradhan is special with several things working in his favour. First and foremost he carries a mature head on his young shoulders and has a deep understanding of state's political landscape. Like Naveen he is also good at reading the popular pulse. While Naveen's advantage is that he has been in power for over 18 years and built up the image of an invincible leader Pradhan has youth on his side. Besides he is a natural leader who is not afraid of stepping up and seizing the opportunity.
Pradhan apparently believes in taking risks. Unlike many other BJP leaders who are not willing to back their ambitions by taking risks the young union minister is adventurous. He seems to be destiny's child. It is this fearlessness that endears him to the youth. They rally around him because he is the only one who has the courage to challenge Naveen Patnaik.
Success often goes to people's head but Pradhan is an exception. He is down to earth and believes in carrying the entire party with him. Instead of perceiving himself as a leader above others he projects himself as the friend of people. But he commands natural respect as there is a natural aura of authority around him.
Without doubt he is a go getter. Once he sets his mind on something he ensures that it is done. Odisha has always been uppermost in his mind. That is why so many projects connected with his department including the Paradip Oil refinery project have been executed in the state.
There is hardly anyone in the state BJP who can be compared with him in terms of stature and power. Some immature political observers had sought to project former IAS officer, Aparajita Sarangi, who has won the Bhubaneswar Lok Sabha seat as a threat to Pradhan. They cannot be more wrong because of the simple fact that Aparajita is yet to learn the political ropes while Pradhan is a master of the art.
Pradhan, who hails from a political family and has risen from the ranks, has spent time with BJP's student as well as youth wings and commands the respect of even senior leaders of the party though he himself treats them deferentially. He seems destined to go places.