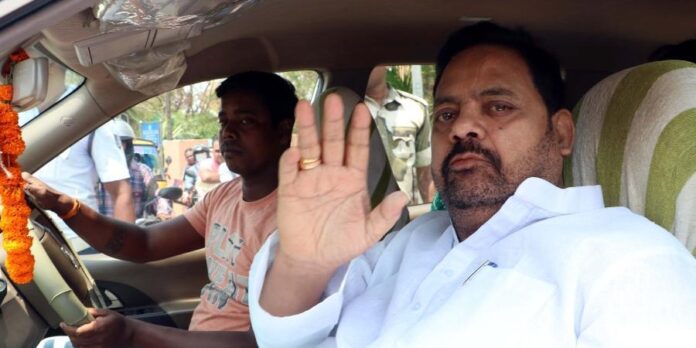 Point of View 
Controversies never eluded the veteran leader Pradeep Maharathy, an active politician, and a darling of masses, all through his career spanning four decades. A long-time associate of former chief minister Biju Patnaik breathed has last on October 4, Sunday.
Former minister and seven-time legislator Pradeep Maharathy, who had represented Pipili Assembly constituency is no more. Let his soul rest in peace. He has left this mortal abode after protracted illness in the wee hours of Sunday, October 4. Known to his followers and constituents as Natu Bhai, Maharathy has been described by Chief Minister Naveen Patnaik as a "stalwart" of Biju Janata Dal and a "true leader of the people."
An active politician, and a darling of masses, controversies never eluded the veteran leader all through his career spanning four decades. A long-time associate of former chief minister Biju Patnaik, the 65-year-old had tested positive for Covid-19 and was admitted to a private hospital in Bhubaneswar on September 14.
Although he was discharged after recovery, he had to be hospitalized again on October 2 as his condition deteriorated and he was put on ventilator support till he breathed his last.
A leader from his student days, Maharathy had to resign as Agriculture Minister in 2012 after being accused of shielding accused in the infamous Pipili gangrape and murder case. Incidentally, the accused were reported to have been arrested from his farm house at Hunkeipur
near Pipili. He again became a minister in 2014 but resigned subsequently following his controversial com
ment that the Pipili rape victim got justice after the acquittal of two of the accused in the case.
Newspapers and television channels reported with meticulous detail the crime scene describing how a 19-year-old Dalit girl was found unconscious and without her clothes on in a farmland near Pipili on November 28, 2011. Suspected to have been gangraped, the girl was later shifted to SCB Medical College and Hospital at Cuttack where she succumbed
to her injuries after remaining semi-comatose until June 21, 2012. However, key accused Prashant Pradhan and his brother Sukant were acquitted by the Bhubaneswar First Additional Sessions Court on December 25, 2018 (six years after the incident) for want of evidence.
There were no eyewitnesses to the alleged incident. The circumstantial evidence and forensic reports produced by the Crime Branch could not stand against the accused triggering public outrage. Amid vociferous opposition protests, Chief Minister Naveen Patnaik then ordered a
judicial probe into the case and dismissal of Pipili police IIC Amulya Kumar Champatiray for dereliction of duty.
The Crime Branch drew flak for the botched up probe and excluding two other molestation accused – Guna Swain and Premananda Nayak — in the charge sheet in the gangrape case.
The Pipili legislator also courted another controversy by allegedly attacking a magistrate in charge of an election flying squad on April 22, 2019. On receipt of a complaint about distribution of money and liquor in violation of the Model Code of Conduct, the Election Commission officials reached Maharathy's farmhouse on the eve of elections. It was alleged that some persons in the presence of Maharathy hurled abuses before attacking magistrate Rabinarayan Patra and his team. An FIR was lodged against Maharathy before he was questioned and arrested, as was reported by the media.
In a social media post, Maharathy admitted there was altercation with the EC officials but refuted the allegation that he was involved in the attack although the EC team entered his farmhouse by breaking its lock at midnight.
And with so full of activities, Maharathy made his short life eventful with his love and compassion for fellowmen and spirited energy for those who sought his support and patronage. He lived a life full of action, drama, dialogue and heroism notwithstanding resistance from
his powerful detractors!!