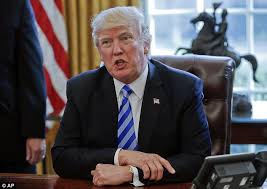 From a rollback of environmental protections to unsuccessful attempts to repeal health care, here's a look at the president Trump's impact on science in his first year in office.
  The year 2017 has been a whirlwind year in politics, to put it mildly. Donald Trump's presidency has triggered tectonic shifts in numerous areas of government, and those involving science have been no exception. Just after the election, the leading Scientific Magazine of the world "Scientific American" predicted Trump's tenure would have widespread effects on environmental policy, climate & energy, health care, space, technology & education.
The Trump administration has taken what many see as a largely apathetic and at times actively hostile approach to science. The position of White House science adviser (the director of the Office of Science and Technology Policy, or OSTP) has been empty longer than under any other modern president, and many other science-related agency positions remain unfilled. These posts play a crucial role   in advising the chief executive and senior White House staff as well as in informing policies, legislation and budgets. Meanwhile Trump has moved to install pro –industry leaders   on science advisory boards, to delay or roll back environmental   and technological regulations and to undercut access to health care.
Not all of the news has been bad for science, however. In some areas Trump and his team have largely stayed the course, and research agency budgets have yet to be determined. But many feel overall the president's actions to date do not bode well for U.S. scientific leadership, both at home and abroad.
Here are some of the specific ways Trump and his administration caused an impact on science in 2017.
Environment:
 It is no secret that Trump does not take the threat of human-caused climate change seriously. In his first year in office, he has sought to reverse much of former President Barack Obama's environmental legacy. Trump hit the ground running with his nomination last December of Oklahoma Attorney General Scott Pruitt, a fierce opponent of Obama's climate policies and of regulation in general, to run the U.S. Environmental Protection Agency. The new president followed by installing former Texas Governor Rick Perry   as secretary of the Department of Energy (which Perry once vowed to shut down), and Montana Representative   Ryan Zinke   —who would later help to preside over the largest proposed land reduction   of national monuments in U.S. history as Interior Department Secretary. Trump has taken an overtly friendly attitude toward the oil and gas industries.  In January he signed orders to move ahead with construction of the controversial   Keystone XL and Dakota Access pipelines, in the face of strong opposition from Native Americans and climate activists.
But perhaps Trump's most controversial environmental decision to date was withdrawing the U.S. from the Paris  Climate Accord, the pledge made in 2015 by more than 190 countries to limit average global temperatures to 1.5 to 2 degrees Celsius above pre-industrial levels. The terms of the pact (which every country except the U.S. has now embraced) mean the actual withdrawal does not take effect until November 2020, however. And in the meantime many US States and cities have pledged to help meet the climate accord targets, some now organized under umbrella groups such as C40 and We Are Still In.
Trump and Zinke have also pushed to open more federal lands to drilling and mining. The president has further proposed deep environmental budget cuts   and moved to deregulate pollution monitoring —including repealing Obama's Clean Power Plan, which regulates carbon dioxide emissions from power plants.
But the Trump administration's efforts did not prevent government scientists from publishing their National Climate Assessment, a report many researchers feared would be muzzled. Pruitt, for his part, has not yet reversed the EPA's endangerment finding, which forms the basis for much of the agency's policy on regulating greenhouse gas emissions.
Health:
Perhaps no part of Obama's legacy has irked and motivated Trump, and his fellow Republicans, more than the Affordable Care Act (ACA). As soon as he entered office, the president picked an outspoken critic of the ACA, Tom Price, as his Health and Human Services (HHS) secretary. (Price later resigned   over criticism of his use of taxpayer-funded charter flights.) After Trump's inauguration, Republicans in Congress immediately took up the challenge of repealing and replacing the ACA, but despite repeated efforts   they were unable to get enough legislative votes. A repeal would have deprived millions of Americans — especially some lower-income individuals of health insurance, while undermining women's access to health & reproductive care.
Determined to make the ACA fail, however, Trump announced in October he would stop paying federal subsidies   that reduce the amount low-income people pay out-of-pocket for health care. Congress now appears poised to pass a massive tax cut that, in its current form, would remove the ACA's health insurance mandate. This could result in more uninsured people and higher medical premiums. It is also predicted to increase the federal deficit by an estimated $ 1.5 trillion over the next decade—a situation that would trigger automatic cuts to Medicare.
Meanwhile the nation has been facing an opioid addiction and overdose crisis of epic proportions, and the administration has been slow to respond. A White House panel issued an urgent recommendation in late summer that the White House declares the problem a national emergency—something the president had promised to do. He ultimately declared it a public health emergency, a designation that provides no additional funding on its own. Trump has also made lackluster progress on lowering drug prices, a task he had promised, during his campaign, to take on. His new nominee for HHS secretary, Alex Azar, is a former pharmaceutical executive who has been widely criticized for raising drug prices.
Technology:
The biggest impact Trump has had on the technology world is via his appointment of Ajit Pai as chairman of the Federal Communications Commission. As predicted, Pai has pushed to reverse the 2015 Open Internet Order , an Obama-era regulation that ensures internet service providers cannot deliberately slow or block content from specific sources—the basis for net neutrality.
In terms of global technological threats North Korea has been flexing its nuclear muscles and Trump's itchy Twitter finger has fueled the international tension. Pyongyang announced in August it possessed a miniaturized warhead, and threatened to fire it at the U.S. Pacific island territory of Guam. And in November North Korea sent up an  intercontinental ballistic missile   that flew higher than any of its previous launches to date and which the North claimed could reach anywhere in the continental U.S.
The U.S. Supreme Court with the addition of Trump's appointee Justice Neil Gorsuch in November heard what some say could be its most important electronic privacy case to date. The case hinges on whether the Fourth Amendment right to privacy extends to cell phone data, which was obtained by the Federal Bureau of Investigation (FBI) with an easier-to-obtain court order instead of the usual warrant, and was used to show that a suspect had been near several crime scenes.
Space and Physics:
In terms of space exploration, the Trump administration has not veered far from existing policy. Perhaps the biggest news in this arena was the decision to refocus NASA's human exploration efforts on returning to the moon (which three former presidents have pledged and failed to achieve) as a stepping-stone to an eventual journey to Mars, turning away from the Obama administration's plan to capture and visit an asteroid. Trump also revived the National Space Council, a group that coordinates space policy among government agencies, and appointed Scott Pace to lead its day-to-day operations.
NASA itself still has no administrator, however, In September Trump finally nominated Oklahoma Representative James Bridenstine, a strong proponent of lunar exploration and commercial spaceflight. The Senate has yet to confirm his appointment.
Trump's 2018 budget request proposed deep cuts to several research agencies, including the Energy Department's Office of Science, which funds the largest percentage of physical sciences research in the U.S. If Congress approves these cuts, they would eliminate much of the DoE's climate research and also effectively withdraw the U.S. from the ITER international fusion experiment,   Science   reported earlier this year.
 Education and Research:
In a presidency that may often seem to be an attack on scientific expertise and facts themselves, public and higher education have come under threat. Few of Trump's presidential appointments were as widely opposed as that of Department of Education Secretary Betsy DeVos, an ardent supporter of voucher programs that give money to private religious schools at the expense of public ones.
And the GOP tax bill, in its latest form, would greatly increase the tax burden on graduate students by removing tuition income waivers. If the bill passes, it could make graduate school prohibitively expensive for many who are not independently wealthy. The implications for higher education are hard to overstate.
Finally, Trump's travel ban, the most recent version of which bars entry to the U.S. for travelers from eight countries—six of them majority Muslim could make it harder for scientists from the affected nations to attend U.S. conferences or perform research.
For many in the science community, these actions collectively paint a picture of a president and administration hostile toward scientific efforts whose conclusions may not fit with their agenda. Whether the next three years confirm or overturn that reputation remains to be seen—if the nation and the world can wait that long.