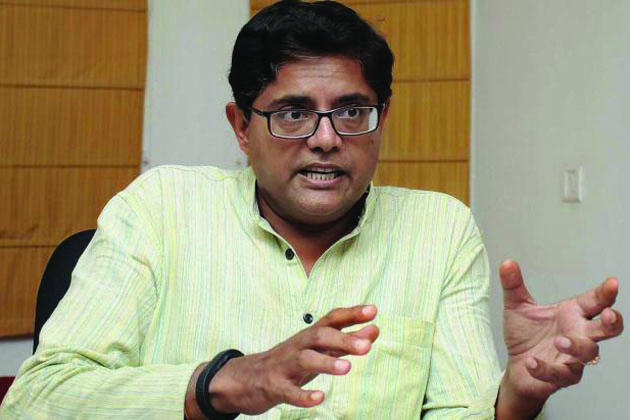 The suspension of high profile BJD Lok Sabha member, Baijayant ' Jay' Panda has created a stir in political circles of the state. The step, it si widely believed, will have repercussions not only for the ruling BJD but also for parties such as the BJP
State politics seems to be in a ferment following the seismic waves caused by the suspension of high profile Biju Janata Dal (BJD) Lok Sabha member from Kendrapara, Baijayant Panda from the party. The development marked the culmination of a sustained campaign against him within the party.It is also likely to spawn new political equations in the state, especially because the BJP seems to be eyeing the MP to boost its own prospects in the next general elections. Though Panda is yet to open his cards the chances of his entering the saffron fold are not being ruled out.
Panda's suspension was announced at a hurriedly called Press conference in Bhubaneswar. Briefing the media BJD vice-president and food and civil supplies minister, Surya Narayan Patro said the MP had been put under suspension for his anti-party activities. "Panda's conduct during the PRI (panchayati raj institutions) elections in which he did not campaign for the partty candidates even in his own constituency and instead indulged in anti-party activities supporting opposition candidates was totally against the interest of the party," said Patro.The minister also referred to conflict of interest saying  that the MP was the vice-chairman of IMFA (Indian Metals and Ferro Alloys), a company which is into mining, ferro alloys and power and had drawn annual salary and allowances of over rupees one crore in 2014.  On his part Panda expressed shock over the party's decision. "*I'm shocked at this news *Very very sad @Naveen_Odisha didn't see thru the conspiracy agnst me led by an IAS ofcr now controlling th party *I vehemently deny the allegations agnst me, they are entirely false & baseless *I will pray to Jagannath for guidance b4 i respond further," he tweeted soon after the announcement.
Earlier in the day he had tweeted, " Er, i didn't start any of these troubles! I was quietly going about my work, inspecting & commissioning rural drinking water projects. When publicly & openly threatened with violence, i had the option of succumbing or speaking out. Would you rather i had NOT spoken out??"
Nicknamed Jay, the 54-year-old leader, who hails from one of the best known industrial families of the state, had fallen out of favour with chief minister, Naveen Patnaik after he made veiled attacks at Naveen's private secretary and powerful bureaucrat, V. Karthikeyan Pandian.
Panda's shadow boxing with Pandian seems to have begun after he was attacked with eggs and stones in May last year during the inauguration of an overhead water tank at Jatiparilo village in his constituency. The MP, who is into his second term in the Lok Sabha after his two earlier terms in the Rajya Sabha, had then hinted at the involvement of some high profile bureaucrats behind the incident. "Some Babus sitting in the air conditioned rooms have started deciding the party activities leading to indiscipline. These are not good signs," he had said.
He once again trained his guns at Pandian without naming him after inaugurating another overhead water tank at Buhalo in Nischintkoili block of Cuttack district, part of his Lok Sabha constituency on January 11. He had warned officers against crossing the "laxman rekha" and even recalled the "Biju theory" of disciplining ill-behaved officers, an apparent reference to former chief minister, Biju Patnaik's call for beating up " anti-people" bureaucrats.
Panda, a well known face in Delhi's elite circles who frequently writes opinion pieces in newspapers and holds a Private Pilot's License for aircraft and helicopters, received no support from the chief minister whatsoever. Soon leaders from various parts of Kendrapara Lok Sabha constituency started lodging complaints against the MP with the chief minister who asked two senior leaders, Usha Devi and Pramilla Mallick to look into the complaints. Both have submitted their reports to the chief minister but their contents have not been disclosed to the media. With the party placing the MP under suspension it is now obvious that the reports went against him.
Ever since the MP has been trying to drum up support and generate sympathy in his favour with visits to his constituency and Puri. On the other hand the Biju Janata Dal (BJD) may explore legal options and approach the Election Commission (EC) to force the party's Kendrapara MP Baijyanat Panda to resign. Party leaders had demanded recently that he resign on moral grounds as he had suppressed information about his earnings from Indian Metal and Ferro Alloys (IMFA) while filing his affidavit for 2014 elections from Kendrarpara Lok Sabha constituency.
Panda reacted saying the allegations by the party leaders were bizarre and they could approach to the Election Commission or High court on the issue. "Bizarre allegations against me by educated & experienced  state legislators (to distract attn from law & order?). Ofc of Profit applies to remunerative posts in govt, not pvt sector or proff'l practice. & I strongly reject allegation of wrong election affidavit: take up w/EC or HC," he tweeted.
The party had racked up the issue of "office of profit" by stating that Panda had suppressed the fact that he had been drawing salary as the vice-chairman of Indian Metals and Ferro Alloys (IMFA), a company which is into mining, ferro-alloys and power.
Party had also fielded its senior leaders including two of its senior MLAs Bed Prakash Agarwal, Atanu Sabyasachi Nayak and Kendrapara district party president Dhruba Charan Sahoo to highlight the issue. The issue of Panda's earnings from IMFA had also been brought up by the party earlier with a reference to 'conflict of interest' while announcing his suspension from the party.The party also did not invite Panda to the launch ceremony of 'The Tall Man Biju Patnaik', a book by Sundar Ganesan, the occasion bringing together several members of Biju parivar apart from former President of India Pranab Mukherjee, former Prime Minister H.D. Deve Gowda senior BJP leader Lal Krishna Advani and CPI(M) party chief Sitaram Yechury. Though senior BJD leader, Damodar Rout also skipped the launch, Panda's absence was hotly discussed.
Reacting on not being invited to the ceremony, Panda, who paid a visit to Puri to seek the blessings of lord Jagannath and pay obeisance at the "samadhi" of Biju Babu, tweeted "People from all over have been invited for today's book launch on Biju Babu, incl nat'l & political leaders from all parties. I'm deeply hurt at not being invited, although some relatives have received (individual) invites. This is no longer a surprise, but reeks of pettiness."
At Puri, Panda also did not spare his critics and hinted that he had paid the price for telling the truth "If Biju Babu had been there, things would have been different," he said. Now politics watchers are waiting for the next move of Panda and his opponents.