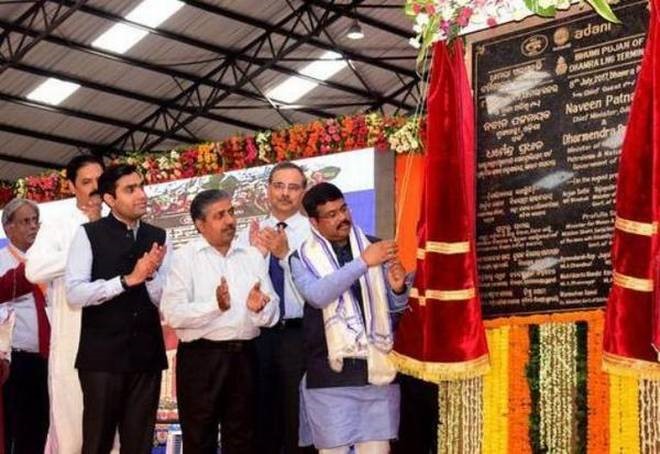 Today, Indian Oil Corporation Ltd (IOCL) and Gas Authority of India Ltd (GAIL) together with the Dhamra Port Company Limited (DPCL) are laying the foundation stone to develop a Liquefied Natural Gas (LNG) terminal inside the port area at an investment of Rs 6,000 crore.
A Memorandum of Understanding (MoU) was signed between DPCL and IOCL for the development of a LNG terminal. The proposed terminal will have a total LNG production capacity of 15 million tonnes per annum. It is learnt that IOCL was keen to develop the gas terminal in the eastern coast of the country as the region does not have any such terminal. Besides, the oil behemoth plans to use the natural gas as fuel and as feed stock for its oil refinery and petrochemical complex at Paradip. The LNG terminal will require 250-300 acres of land and will be a part of DPCL's Phase-II expansion programme. IOCL authorities were in talks with DPCL officials since the second half of last year for the gas terminal. The oil marketing company was interested to sell the imported gas to industries based in and around the petrochemicals complex region.
India's gas demand is expected to reach 381 million standard cubic metres per day (mscmd) by 2025, compared with a supply of 202.9 mscmd. India has an LNG import capacity of 13.5 million tonnes per annum (mtpa) through two terminals, accounting for about 20 per cent of the country's gas requirements. Apart from IOCL, Petronet LNG was also keen on establishment of an LNG terminal in Odisha. The gas major had identified Paradip, Dhamara and Gopalpur as probable locations for its proposed project.
Situated between Haldia and Paradip, Dhamara is one of the deepest ports of India with a depth of 18 meters, which can accommodate Capesize vessels up to 180,000 dead weight tonnage (DWT). DPCL, which was originated as 50:50 joint venture of L&T and Tata Steel and subsequently taken over by Adani Group, has been awarded a concession by Odisha government to build and operate the port for a period of 30 years.
Adani Group had offered 49 per cent stake in its Rs 6,000-crore Dhamra LNG project in Odisha to state-run gas utility GAIL India and refiner IOCL. Adani has formally written to the two state-owned firms offering them 49 per cent stake in the 5 million tonnes a year LNG import terminal planned at Dhamra by 2018-19. IOC had last year signed up to use 60 per cent of the terminal capacity for importing gas for its refineries at Haldia in West Bengal and Paradip in Odisha. GAIL too had signed up for 1.5 million tonnes of the terminal's regassification capacity.
Amid the political tug of war and Odisha Chief Minister Naveen Patnaik skipping the ceremony, Union Petroleum Minister Dharmendra Pradhan is solemnising 'Bhumi Pujan' (soil sanctifying ritual) of the proposed LNG Terminal project at Dhamra flanked by his party leaders and elected peoples' representatives of the locality.
The proposed terminal will play a significant role in the development of eastern India, more particularly of Odisha, as the Prime Minister has made it clear that India can't be deemed developed unless and until the eastern India region, including Odisha, West Bengal, Manipur, Jharkhand, Chhattisgarh have developed. Till date, only one gas terminal of the country is operating in Gujarat. Now the 2nd natural gas terminal will be established in Odisha. The LNG Terminal will be set up at an estimated cost of Rs 6,000 crore while the pipeline to transport gas will be laid at an estimated cost of Rs 13,000 crore connecting 13 districts of Odisha and State of Jharkhand and Uttar Pradesh."
The Dhamra Port Company Limited (DPCL) has been entrusted, by way of a concession granted by Government of Odisha to build and operate a deep draught, all weather, multi user port at Dhamra in Bhadrak district on BOOST (Build, Own, Operate, Share and Transfer) basis. The concession period is for 34 years including a period of 4 years for construction and can be renewed or extended for two additional periods of 10 years. Situated between Haldia and Paradeep, Dhamra Port is well sheltered between the mainland and Kanika Sands Island on the mouth of the river Dhamra. The location of Dhamra is in close proximity to the mineral belt of Odisha, Jharkhand and West Bengal and its dedicated connectivity will help serve this hinterland with the greatest efficiency. Company achieved Financial Closure for Phase-I of the project in February'07. The construction of Phase-I commenced in March'07 and the Port began commercial operations on May 06th, 2011. For Phase-I, DPCL has constructed two fully mechanized berths of 350 meters each along with backup facilities for handling imports of coking coal, steam/thermal coal, limestone and export of iron ore. Phase-I also includes a 62 kilometers rail link from Dhamra to Bhadrak. The master plan of the Port envisages 15 berths, capable of handling more than 100 million MT per annum of dry bulk, liquid bulk, break bulk, containerized and general cargo. Equipped with state-of-the-art technology and a conducive business environment, Dhamra Port is poised to become the biggest and most efficient Port in the East Coast of India.
In fact, the 450 stretch of coastline of Odisha has a tremendous future. The states like chhatisgarh, Jharkhand, Bihar, Madhya Pradesh and Uttarakhand are dependent upon the coastline of Odsha to fulfill their overseas import and export necessities.  Therefore, Odisha should establish not less than 5 more new ports, with the help of FDI and or state funding provided by the neighboring states. These ports shall not only serve as the gateway for trade and commerce, but also help us to generate employment, establish MSMEs and develop various modes of communication. We must welcome the investors to utilise the facilities created at all the ports, without depending on Paradeep alone. In this connection, we shall hope that the proposed steel plant by JSW should be permitted near Astaranga, instead of Paradeep. Let JSW find and select its joint venture partner for development of a new port at Astaranga.
We are lucky that Govt. of India has focused on states like Odisha, which have remained underdeveloped despite many plans and programmes. Now the making of New India has begun. In a democracy, there may be governments by different political parties in states and the Centre.  There may be ideological differences; but all must welcome any developmental activities and join hands together to ensure the welfare of the people, by whom they are elected.
[PRATISRUTI PLUS Make in india special supplement-8th july2017]