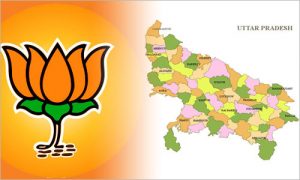 Apart from giving BJP a striking distance of an absolute majority in the Electoral College, the UP win has given Modi to take greater liberties with parliamentary procedure. The tenure of five MPs from Madhya Pradesh, four from Rajasthan and one from Chhattisgarh will also end in the year 2018. With the BJP in complete majority in all these states, it would hope that the year would provide it a greater say in the Rajya Sabha and help it push its legislative agenda.
Euphoria apart, the massive victory of BJP in Uttar Pradesh is going to impact national politics in more ways than one. For one this is likely to bring BJP within striking distance of an absolute majority in the Electoral College that will choose India's next president in July. This will give Prime Minister, Narendra Modi a lot of scope for manoeuvring to have the candidate of his choice. The office of the Vice-President would also fall vacant in August.
There would be many names for the BJP to choose from, especially from within its own party for both the posts. But more than the names, the focus is currently on the numbers. And considering that the BJP has added a large number of seats to its kitty in UP and Uttarakhand it is now much better positioned to push its candidates for these posts.
Though Punjab  has been a setback for Modi, UP more than compensated for it. Had he lost the UP election, securing the support of smaller parties would have been difficult. The results of the assembly polls in the five states would also have a bearing on BJP's Rajya Sabha strength.
Currently the biggest Rajya Sabha party is the Congress with 59 seats, followed by BJP with 56, Samajwadi Party 18, AIADMK 13, Trinamool Congress 11, Janata Dal (United) 10, Telugu Desam Party and Bahujan Samaj Party 6 each, and the Nationalist Congress Party 5.
However, the strength of the ruling party in the upper house can only grow as seats fall vacant on completion of the 6-year terms that MPs there enjoy. So it is not before late 2018 that a significant change would be felt in Rajya Sabha, when the tenure of 10 MPs from Uttar Pradesh and one from Uttarakhand would end.The year 2018 would also mark a watershed in Rajya Sabha numbers as the tenure of five MPs from Madhya Pradesh, four each from Karnataka and Rajasthan and one from Chhattisgarh will also end the same year. With the BJP in complete majority in all these states barring Karnataka, it would hope that the year would provide it a greater say in the Rajya Sabha and help it push its legislative agenda. Though it would still have to wait a long time to get a majority in this house, the political headroom the UP win has given Modi will allow it to take greater liberties with parliamentary procedure.All this is significant, especially in the context of national politics as Modi now has his eyes set on 2019 general elections when the country would once again judge him and give its judgement on whether it has liked his policies and performance or not. Since he has  himself been seeking votes on performance there is no going back for him. UP election thus means a lot to him and his party. March 16-31, 2017