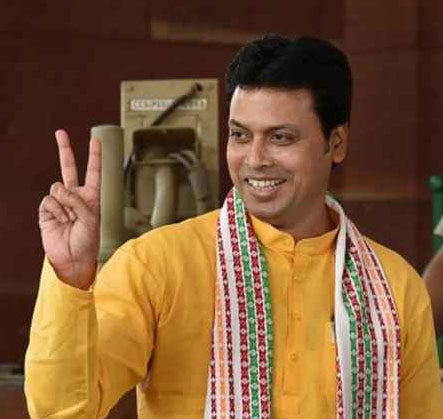 Biplab Kumar Deb, the newly elected BJP chief minister of Trpura and a 46-year-old former RSS pracharak, replaced the redoubtable Manik Sarkar. It seems that Deb has developed foot in the mouth disease quite early. He grabbed headlines throughout April, but for all wrong reasons.
In March, the Bhartiya Janata Party created history by ending 25 years' communist rule in Tripura. Biplab Kumar Deb, a 46-year-old former RSS pracharak, replaced the redoubtable Manik Sarkar, who served as the chief minister of the state for two decades.
But the newly elected BJP chief minister has developed foot in the mouth disease quite early. He grabbed headlines throughout April, but for all wrong reasons.
On April 18, Deb, a graduate, raised eyebrows by claiming that satellite and internet existed in the time of Mahabharata. His comments set the social media on fire. In the face of criticism and ridicule, he stood by his remarks and even went a step further citing the Narendra Modi government's achievement of sending "104 satellites a year to space", which was proof of ancient India's technological advancement.
Few days later, Deb was back again to define the concept of Indian beauty. He said former Miss World Diana Hayden was not Indian enough to win the crown. At the same time, he praised former Miss World Aishwarya Rai for being a perfect "Indian beauty" who truly represented Indian women. He said women like Hayden managed to win the Miss India and Miss World crown because at that time international cosmetic companies were trying to capture the Indian market. But now no Indian girls were winning international pageants because the foreign companies had already captured the market, the Tripura chief minister observed, forgetting that Manushi Chhillar won the Miss World crown in 2017.
Rai won the Miss World crown in 1994 while Hayden won it for India three years later. Obviously, Deb's parameter for "Indianness" was Rai's fair skin against Heyden brown skin.
Deb drew lot more criticism this time with the social media slamming him for his medieval mindset. Deeply hurt, Hayden hit back at him saying that Deb should be more careful about his comments as he was occupying a prominent position. "I am fighting this brown skin bias since my childhood. And I have succeeded. People should be proud of my achievement, rather than belittling it. I am a proud brown-skinned Indian," she said in an interview with News 18.
Following the backlash, Deb apologised to Hayden saying that his intention was not to hurt anyone's sentiments because he respected all women "like my mother". But a day later, on April 28, he again became a target of jokes for commenting that only civil engineers should join the civil service, and not the mechanical engineers. As Indian Administrative Service officers, qualified civil engineers could give valuable inputs to construction projects, which mechanical engineers could not, he said, while speaking at an event to celebrate Civil Service Day at Agartala.
Deb, who had extensively campaigned for employment for youths in Tripura during the elections, also took a cue from Prime Minister Modi, his political guru, by advising the youths to open betel shops or rear cows instead of looking for government jobs. Modi had earlier advised the educated youths of the country to seek self-employment by selling 'pakoda'.
BJP has been grappling with insensitive and outright crash comments by party leaders since it came to power in Centre. Deb's unending streams of quotable quotes, however, has embarrassed the BJP top brass no end at a time the party is fighting a fierce battle with the Congress in Karnataka. It was reported that Deb has been "summoned" by Modi to Delhi.
Deb's utterances over a month have given enough insight into the mind and thinking process of former RSS pracharaks who are initiated to political power. The utterances by another pracharak turned chief minister – Haryana's M.L. Khattar – have been widely reported. In 2015, soon after the gruesome murder of a Muslim in Dadri in Uttar Pradesh, Khattar drew criticism for saying that Muslim would have to stop eating beef if they wanted to live in India.
Now Deb's controversial statements reinforces the belief that most of them have regressive mindsets having limited vision for governance. They lack in intellect but try to compensate it with their misplaced arrogance of being superior beings.
By comparing Hayden with Rai, Deb sent across a message that like the fair skinned calendar gods and goddesses, fair skinned people, mostly belonging to upper caste, are the real Indians. Such mindset cannot tolerate a brown-skinned Christian girl to be counted among most beautiful women in the world. On the other hand, the utter lack of knowledge on matters of governance is also reflected in Deb's advice to educated youths about opening betel shops.
Time will tell whether such leaders are assets or liability for the BJP.