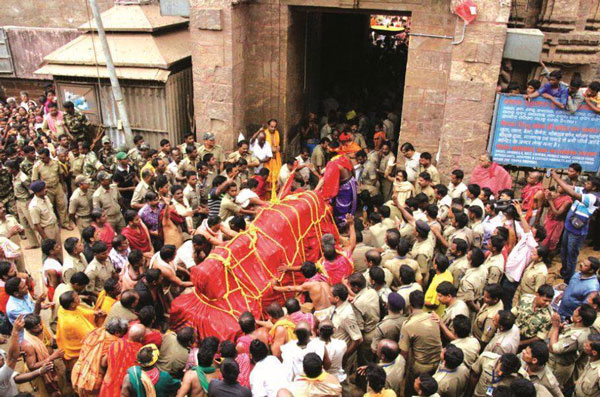 Is it improper that discussions are taking place on 'Daru Fixing' when the Trinity has already mounted on the Ratna Singhashan and puja is going on? Should the devotees refrain from indulging in such discussions? Can action be taken as per the law of the land against the tainted servitors, officers and the politicians found responsible?
The Daru "fixing" controversy had returned to haunt the state government and the sevayats of the Shri Jagannath temple. If ruling BJD leaders thought that clamour over the issue would subside they were wrong. It has returned with a vengeance and could harm the party even in the elections.
Shree Jagananth Temple administration has issued show cause notice to 11 people including secretary of Daitapati Nijog Premananda Das Mohapatra and one of the main carpenters Krushna Chandra Maharana. Both Das Mohapatra and Maharna has alleged fixing at the time of selection of the logs for making idols the trinity at the time of Nabakalebara in 2015.
Shree Jagannath Temple Public Relation Officer (PRO) Laxmidhar Pujapanda said, "The issue has been served following the irregularities made by them during the change of idol at the time of Naba Kalebara. Besides, after the rituals were over and the Lords have already been seated in the sanctum sanctorum, there is no need to create any other controversies. All of them have been asked to respond to the notices within 15-days."
Das Mohapatra was accused of taking four other unauthroised daitapatis inside the shrine when the secret rituals relating to the change of idols were going on. "Darshan of the Brahma is strictly prohibited however you paid no heed to the rules and forcefully did the darshan. The entire ritual is top secret however it was publicised in the media which led to the SJTA and State administration's humiliation," the notice said.
He also raised the question how all the threes sacred trees were found in a single district Jagatsingpur. "There was a tradition to use bullock carts but why the motorized vehicles were used. Why all of them had embarked on a journey during the night?  There was deal and a probe should be ordered. I will respond to the notice" Das Mohapatra said.
Tempe administrator (Niti) Pradeep Das denied all the allegations. "It is really unfortunate that such discussions are taking place when the Lord has already mounted on the Ratna Singhashan and puja is going on. All should refrain from indulging in such discussions. All action will be taken as per the law of the temple act."
He said, "I was associated in the entire process and all rituals. There were no irregularities. Bringing out such allegation now is unjustified."
Expressing his deep regret over the issue, Puri Gajapati Dibyasingha Deb said," All these are taking place due to religious degradation. "