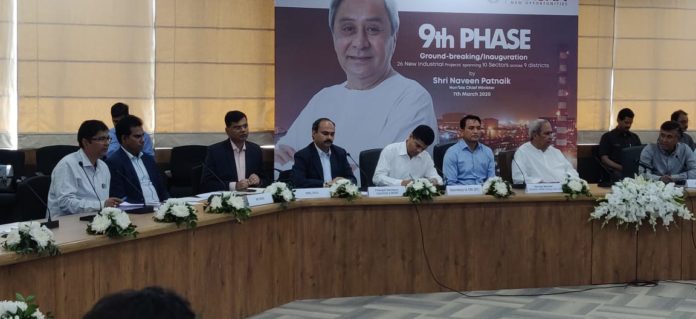 In the 9th phase of ground-breaking/inauguration of industrial projects Odisha Chief Minister, Naveen Patnaik in Bhubaneswar did the ground-breaking for 23 industrial units across various sectors and Inauguration of 3 industrial projects, worth a total of Rs. 5567.5 crores combined with the employment potential of 9168 peoples in the state.
Aditya Birla Renewable is setting up Solar Power Plant for the sector of Power & Renewable Energy with an investment of Rs. 352.5 crore at Harabhanga, Boudh providing employment of 80 peoples. Jindal Stainless Ltd. is coming up to set up an expansion of cold Rolling Mill on Metal & Metal Downstream with an additional investment of Rs. 265 crore at Kalinganagar, Jajpurwith an employment potential of 550 peoples. AKM Agro is setting up 30,000 TPA Vegetable Oil Manufacturing unit on food processing with an investment of Rs. 91.5 crore at Industrial Estate, Khurda providing employment of 384 peoples.
Besides the above, the Groundbreaking ceremony of 23 industrial units across various sectors including; Power & Renewable Energy, Metal & Metal Downstream, Food processing, Tourism,Fertilizer, Refinery, Petrochemical, Chemical & Plastics, Pharmaceuticals, Textile & Apparel.Dibya Shankar Mishra, Minister of Energy, Industries, Micro, Small & Medium Enterprises, Government of Odisha; Hemant Sharma, Principal Secretary Industries and MSME departments; and the representatives of the 26 companies were present at Kharavela Bhawan in Bhubaneswar, while the Chief Minister performed the ground breaking formalities.
Speaking during the ceremony, Naveen Patnaik said, Odisha is fast emerging as the manufacturing hub of eastern India and we are working towards developing the state into a manufacturing hub of South Asia. I congratulate all the concerned companies on this milestone and assure everyone of complete facilitation support from the state government. These projects will usher in the next era of industrial growth in the state and will contribute towards the vision of an industrially prosperous Odisha.
Prospective Companies for Ground Breaking Phase-IX_07.03.2020
S.No.
Name of the Company
Investment Amount
(in Crores)
Emp. Potential
Classification
Location
Project Description
Sector
1
Aditya Birla Renewable
352.5
80
Inauguration
Harabhanga, Boudh
Solar Power Plant
Power & Renewable Energy
2
Jindal Stainless Ltd
265.0
550
Inauguration
Kalinganagar, Jajpur
Expansion of Cold Rolling Mill
Metal & Metal Downstream
3
AKM Agro
91.5
384
Inauguration
IE, Khurda
30,000 TPA Vegetable oil manufacturing unit
Food Processing
4
Rungta Mines Limited (RML)
2,135.0
2,289
Ground Breaking
Kamanda, Sundargarh
Expansion of Integrated Steel Plant 0.9 MTPA capacity
Metal & Metal Downstream
5
Shri Jagannath Steel & Power Limited
835.3
501
Ground Breaking
Barbil, Keonjhar
Expansion of Integrated Steel Plant to 0.3 MTPA capacity
Metal & Metal Downstream
6
Kamaljeet Singh Ahluwalia
593.7
1,274
Ground Breaking
Barbil, Keonjhar
Expansion of Steel Plant to 0.2 MTPA capacity
Metal & Metal Downstream
7
MSP Sponge Iron Limited
573.4
978
Ground Breaking
Gobardhan, Keonjhar
Expansion and modernization of Integrated Steel Plant to 0.283 MTPA
Metal & Metal Downstream
8
KashikaMetaliks Limited
504.0
2,181
Ground Breaking
Kalinganagar, Jajpur
0.2 MTPA Ductile Iron Pipe Plant Complex
Metal & Metal Downstream
9
Kashvi International (P) Ltd
152.8
188
Ground Breaking
Jhumpura, Keonjhar
Pellet Plant
Metal & Metal Downstream
10
Ilex Developers & Resorts Ltd
20.0
110
Ground Breaking
Bhubaneswar, Khurdha
Expansion of its existing hotel to a 5 star hotel
Tourism
11
DibyaMultigrainsPvt.Ltd.
9.0
163
Ground Breaking
Ramdaspur, Cuttack
Spices& Vermicelli Processing unit
Food Processing
12
SidhiVinayak Oxygen
4.9
26
Ground Breaking
Ramdaspur, Cuttack
Oxygen & oxygen cylinder Manufacturing
Others
13
Tarini Packaging & Graphics
4.8
52
Ground Breaking
Ramdaspur, Cuttack
Paper Box Manufacturing Unit
Paper
14
Fun Leela Water Park
4.5
33
Ground Breaking
Lahandabud, Jharsuguda
Water and Amusement Park
Tourism
15
Fortune Powernic Solutions (P) Ltd.
2.8
50
Ground Breaking
Ramdaspur, Cuttack
Manufacturing of Diesel Generator unit
Others
16
Recaardus Enterprises
2.4
37
Ground Breaking
Ramdaspur, Cuttack
Manufacturing of Bread & Biscuits
Food Processing
17
RiddhiBinayak Pet Industries
2.3
45
Ground Breaking
Choudwar, Cuttack
Different sizes of pet bottles
Plastics
18
LaxmiPriya Agro Food Processing
2.1
49
Ground Breaking
Ramdaspur, Cuttack
Manufacturing of Fruit squash etc.
Food Processing
19
East Coast Thermocol& Paper Products
2.0
26
Ground Breaking
Somnathpur, Balasore
EPS Thermocol Sheets Corrugated Boxes
Paper
20
Ganapati Steel Industry
1.9
28
Ground Breaking
Somnathpur, Balasore
Manganese Steel Casting Product
Metal & Metal Downstream
21
Raj Udyog
1.5
26
Ground Breaking
Somnathpur, Balasore
Moulded Furniture & Powder coating of Aluminium Frame
Others
22
Turbo Classic
1.5
18
Ground Breaking
IE Kalunga, Rourkela
Coal Tar distillation
Fertilizer, Refinery, Petrochemical, Chemical & Plastics
23
Tirupati Plastic
1.4
22
Ground Breaking
Choudwar, Cuttack
PVC Flexible & Rigid Pipes & Plastic Granules
Plastics
24
DishuSurgicals
1.3
34
Ground Breaking
IE Mahisapat, Dhenkanal
Surgical Goods
Pharmaceutical
25
Rowan Mills (P) Ltd.
1.0
14
Ground Breaking
Ramdaspur, Cuttack
Manufacturing of Bread & Bakery Product
Food Processing
26
Venus Cotton Industries
1.0
10
Ground Breaking
Somnathpur, Balasore
Processed Waste Cotton
Textile & Apparel
Total
5,567.5
9,168