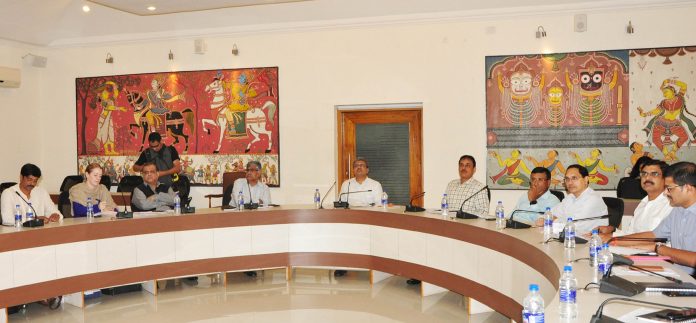 Looking into the preparations for ensuing Odisha Men's Hockey World Cup-2018 at Kalinga Stadium here, DrNarinder Batra, President International Hockey Federation has remarked "Bhubaneswar is rightly the SportsCapital of India". He added the coming World Cup is going to be a benchmarking event. "The Stadium as I sawhas come up as a World Class Stadium. The player's asylum is best in the world. Other arrangements in the
stadium are coming up with world class benchmarking standards". Dr Batra said this in the Governing BodyCommittee meeting of Hockey World Cup-2018 held under the hairmanship of Chief Secretary Sri AdityaPrasad Padhi in secretariat conference hall wherein Secretary Sports & Youth Welfare Sri Vishal Devoutlined the issues and presented the updates for discussion.
Reviewing the progress of different scheduled works Chief Secretary Sri Padhi directed the concerneddepartments and agencies to keep up the pace and complete all works in all respect before the zero date. SriPadhi further directed to ensure healthy food quality, water quality, source of the water, fire safety etc in thehotels and guest houses where the players are scheduled to stay. Health and Tourism department officers wereasked to undertake safety and healthy standards check up each day in the hotels. It was decided to organize thestadium inauguration on 10th October with an exhibition match.The grand international event would be marked with a plethora of sport and cultural happenings and memorials.
On 20th November there would be lighting of Peace Flame at Dhauli and March to Kalinga Stadium. The grandopening ceremony of the World Cup-2018 would be on 27th November at Kalinga Athletic Stadium. Thematches would be telecasted live from the stadium through large LED screens at Puri sea beach, Janata Maidan,Ekamra Hat, KIIT, Unit-1 Market and Rourkela. Besides it would also be displayed through LED screens indifferent districts of the State. Trophy Showcase canter would tour through different parts of Odisha with hockey
stick to 'measure the heartbeat' from 14th October to 14th November. Ekamra Sports Literary Fest would beorganized on 2nd and 3rd November. The city Festival would be jointly organized by Department of Tourism andBDA. The city festivals would have the events like International Food Festival, Story Telling Festivals, Music,Dance & Art Festivals on different dates during the World Cup. Review showed that the infrastructure works like construction of new galleries, increase of seating capacity inexisting galleries, fop lighting, relaying of 2 new turfs, construction of widening of internal roads and entry
gates, development of parking space, running of new busses, city branding, landscaping and beautification ,setting the wi-fi access pints etc are all on the schedule. The sitting capacity of the stadium has been enhanced to15086. Chief Secretary Sri Padhi directed Secretaries of concerned departments to take review of the progress ondaily basis till all the works are given the last finishing touch.It may be pertinent here to mention that the matches for the world cup would be played from 28th November to16th December. Each day two matches would be played from 5.00 P.M. onwards. Quarter Final would be played
on 12th and 13th December. Semi-final and Final matches have been scheduled on 15th and 16th Decemberrespectively. Champion teams from 16 countries would participate in the World Cup and Matches would beplayed in 4 pools. The countries namely Argentina, New Zealand, Spain and France would be in Pool-A,Australia, England, Ireland and China would be in Pool-B, Belgium, India , Canada, and South Africa would bein Pool-C; and Netherlands, Germany, Malaysia and Pakistan would be in Pool-D. The Matches would be playedfrom 28th November to 16th December. Each day two matches would be played from 5.00 P.M. onwards. QuarterFinal would be played on 12th and 13th December. Semi-final and Final matches have been scheduled on 15thand 16th December respectively.
Development Commissioner Sri R. Balakrishnan, Additional Chief Secretary Home Sri Asit
Kumar Tripathy, Additional Chief Secretary Finance Sri Tuhin Kanta Pandey , Director General Police DrRajendra Prasad Sharma, Secretary Sports and Youth Services Sri Vishal Kumar Dev, Principal Secretaries,Secretaries of concerned departments along with top officials from India Hockey League and FIH participated inthe deliberations.