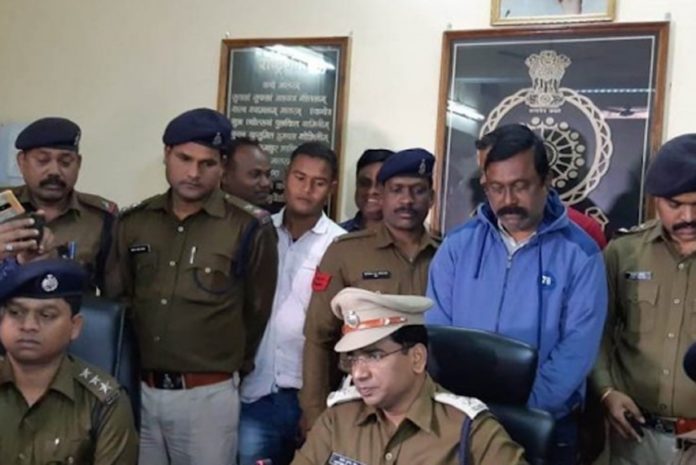 The case of Anup Sai has put the focus back on the nexus between crime and politics and raised questions marks over the willingness of political parties to cleanse politics. Sai's alleged involvement in the horrible crime has taken rocked the state with people questioning the morality of politicians and the leaderships of various politics parties. The debate is likely to continue.                                       Even as the country debates ways of cleansing politics and crime-politics nexus is increasingly becoming a cause for worry Odisha has been rocked by a high profile murder case allegedly involving former Brajrajnagar MLA, Anup Sai who was last week arrested by Chhatisgarh police.
The case had created ripples in political circles with chief minister and ruling Biju Janata Dal (BJD) president, Naveen Patnaik expelling Sai who had won the Brajrajnagar seat thrice on Congress ticket between 2000 and 2009 before switching loyalty to the BJD in 2014. The former legislator was also removed as the chairperson of the Odisha State Warehousing Corporation.
However, the expulsion of Sai which is being seen as a damage control exercise by the BJD supremo has failed to prevent criticism of the party by its opponents who have raised the issue of Patnaik's moral responsibility in the matter. A senior BJP leader said that the case pertained to the murder of a woman and her minor daughter and chief minister cannot escape moral responsibility simply by expelling Sai and removing him from the post of a government-run corporation.
Sai was picked up by officials of Chakradhar Nagar police station in Chhatigarh's Raigarh district last week from near his residence in western Odisha's Jharsuguda town for questioning in a double murder case of 2016 in which the bodies of a woman identified as Kalpana Das (32) and her daughter Pravati Das (14) had been recovered from an area in Chhatisgarh close to Jharsuguda border. There was also an attempt to make the murder look like the case of a road accident.
Chhattisgarh police launched a probe and collected information from the deceased's kin and different local police stations in Jharsuguda district before acting against Sai who was picked up by a Chakradhar Nagar police team after he failed to respond to several notices from the police station to appear before its officials for questioning. Jharsuguda superintendent of police, Ashwini Mohanty told mediapersons that his Raigarh counterpart had called him and informed him about the detention of the former MLA who was arrested soon after.
While there is speculation over the alleged live-in relationship between Sai and the deceased the case had acquired a distinct political colour and also brought to the fore the issue of crime-politics nexus. Opposition leaders think it has made a mockery of Patnaik's much vaunted 5T (  technology, transparency, teamwork, time and transformation) formula of governance. " I felt ashamed when I came to know about the incident. While expelling Sai from the party is the internal matter of BJD the moot question is why do you induct people into the party without checking their antecedents?" asked a senior leader.
A former Congress MLA slammed chief minister, Naveen Patnaik accusing him of making a show of being honest and issuing the expulsion order against Sai only to save his image. "Now that Sai has been arrested Patnaik found it convenient to throw him out of the party. The chief minister should not forget that he and his party had welcomed the former MLA with great fanfare in 2014 when he quit the Congress to join BJD. He was also given a BJD ticket to contest from Brajrajnagar in 2014 but he lost. Patnaik only worried about his personal image," said Mohapatra.
Sai has been a key player in the politics of Jharsuguda-Sambalpur-Bargarh belt which is among the most sensitive areas of western Odisha where the BJD is engaged in a fierce turf war with BJP. The war has intensified in the wake of BJPs creating a record of sorts in 2019 elections by winning all the five Lok Sabha in this region. Though Sai did not contest the last election he played an important role in ensuring chief minister, Naveen Patnaik's victory from Bijepur assembly seat in Bargarh district. Patnaik, who had also contested and won from his traditional seat of Hinjili in Ganjam district, later vacated Bijepur but Sai was rewarded for his hard work with the chairmanship of Odisha State Warehousing Corporation.
"It is obvious that chief minister acted against him only when such action became inevitable to save his image. By doing so he has also sought to divert popular attention from pressing issues like state's poor financial condition," said a Congress leader adding that financial crunch has forced the government to reduce financial assistance to farmers under the Krushak Assistance for Livelihood and Income Augmentation (KALIA) scheme to Rs 4,000 per annum from the initial Rs 10,000 and tag the scheme with Pradhan Mantri Kisan Samman Nidhi (PM-KISAN) yojana.
A well known political analyst said that Odisha chief minister appeared to have become extremely touchy about his image and has been launching schemes like Mo Sarkar and 5T only to distract public attention from issues like the rising trend of crime against women and his government's increasing dependence on the Centre for financial assistance which could be a potential source of embarrassment for him. "In the present case expulsion seems to be an extreme step as he has  not been proved guilty by any court so far. But taking the extreme step suits Patnaik's image building exercise," said the analyst.
However, a BJD leader dismissed the talk of image building by chief minister as so much of guess work and asserted that Patnaik has always acted strictly in matters involving crime. "This is not the first time he has acted in such matters following allegations of involvement in crime. This has been a matter of consistent policy for him. As far as initiatives like 5T and Mo Sarkar are concerned they are an honest attempt to improve the quality of governance and should not be seen from the narrow angle," said the leader.