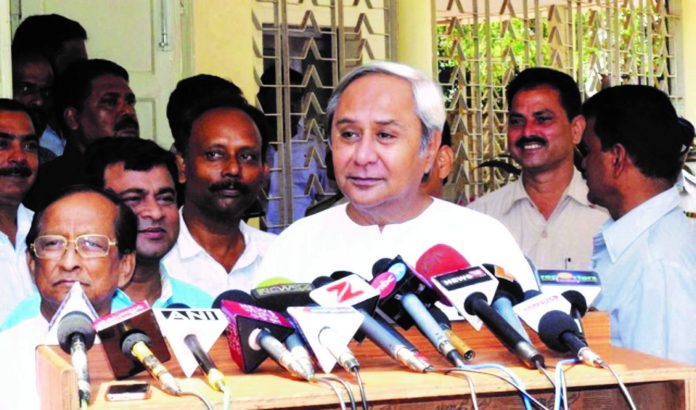 Chief Minister, Naveen Patnaik is a clever politician, who knows which side of his bread is buttered. He learnt a few lessons from the last panchayat elections and is currently in the course correction mode. While he has already effected a ministry re-jig he has now come up with a formula to strengthen the government and the party, the aim being to ready the BJD cadres for the big battle in 2019.
[Pratisruti Plus:June 1-15, 2017]
Chief minister, Naveen Patnaik recently completed three years in office in his fourth record term. The last three years have not been easy by any stretch of imagination with controversies and scandals surrounding the government. But Naveen, the master strategist, has weathered all storms and emerged victorious.
He is now a much wiser man keenly aware of the challenging times ahead. Hence he has begun the exercise to strengthen his party as well as the government. On the governance front he has come up with the 3T – Teamwork, Transparency and Technology- formula asking his ministerial colleagues as well as officials to follow it strictly.
Presiding over a recent council of ministers meeting Patnaik painted a rosy picture of his government's achievements during the last 17 years noting, among other things, the significant fall in infant mortality rate and stability in the state's financial condition.
He also mentioned how Odisha was once a state known for mishandling natural disasters leading to loss of thousands of precious lives but is now setting global benchmarks in disaster management. While he made a mention of significant reduction in the state's poverty ratio claiming that around 80 lakh people had some out of poverty in the last one decade, he also underscored achievements such as increased transparency in the government which has succeeded in combating corruption.
Laying extra emphasis on the 3-T formula he expressed his commitment to the state's all-round development saying he was concerned about the goal of last mile delivery. He also laid out a time schedule for various government departments informing people through media briefings about their achievements.
The exhortation from the chief minister came a day after he issued a guideline to the party about reaching out to people right up to the booth level. He has chalked out a special programme called Ama Gaon Ama Vikas (our village, our development) from July 1 to achieve this aim. He also announced the upcoming launch of Biju Sathi programme to involve the youth volunteers in the BJD programme.
Naveen said there had been  transformation in the state in every field, be it industrialization, checking the drop-out rate of children from schools, enhancing the skills of the youths or winning the Krishi Karman Award for the farmers for enhancing agricultural production or women empowerment. It has been well recognized by the people. " The transformation is well recognized by our people who have repeatedly reposed their faith in us," he said asking his colleagues to work together with commitment and dedication to honour the faith of the people.
The development should be seen in the context of BJP, too, gearing up to strengthen its base. Party leaders recently received " guru mantra " in this regard from national president, Amit Shah. A BJP spokesperson said,  " Our workers will reach out to the people highlighting different programmes launched by the Modi government for the welfare of the people."
However, it is chief minister, Naveen Patnaik's strategy to shore up his party that is in focus right now. Addressing party workers a day ahead of his government reaching the landmark of three years in office in its fourth term, he called for the implementation of "Ama Gaan Ama Vikas' and "Biju Sathi" programmes to take the message of development right up to the panchayat level.
In the course correction mode following BJD's below par performance in the recently held panchayat elections, Naveen said 'Ama Gaan Ama Vikas' to be launched from July 1 would be preceded by a series of meetings and workshops to be organized by BJD district observers and ministers.
"This would continue from May 24 to June 30 and would be followed by Ama Gaan Ama Vikas programme with district and block observers of the party reaching right up to the panchayats. Work would also be taken up at the booth level and reports submitted to me by September 30," said Naveen adding that Biju Saathi initiative would involve volunteers for strengthening the party and developing the state.
While the chief minister took a dig at the BJP saying that some parties believed only in spreading misinformation, the outspoken BJD Lok Sabha member from Dhenkanal, Tathagat Satpathy demanded that his party spell out its stand on BJP clearly. "We need to have a clear stand on BJP," said the MP.
Satpathy, who was in news recently for engaging in a Twitter war with a fellow party MP, was once again scathing in his criticism of party leaders. "Bitter truth must be spoken. Our ego will prove to be our doom. We should remember that we cannot win without Naveen Patnaik and the conch symbol of the party," he said.
Satpathy's speech came to an abrupt end after former minister, Debi Prasad Mishra, who was conducting the meeting, came up to him whispered something into his ear. While Rajya Sabha member, AU Singh Deo called upon party workers to work hard for the success of the BJD as the chief minister had sounded the poll bugle, former minister, Prasanna Acharya underscored the need for unity among party leaders.
Without taking names party veteran and minister, Damodar Rout made a veiled attack on leaders who appeared to be tilting towards the BJP. "That party believes in publicity. If that has influenced some of our leaders they are free to go," he said.
The show of strength by BJD was a bid to pre-empt BJP which has drawn up plans for celebrating Modi government's three years in office. The saffron party would be organizing road shows and public meetings to reach out to the people.  "As many 30 leaders including union ministers Venkaiah Naidu and Ram Kripal Yadav would be visiting Odisha. Meetings will be held at 30 districts headquarters," said a BJP spokesperson. A party MLA said, "We will focus on reaching out people with various central government programmes. We will also tell them about the failure of the state government to spend money allocated for central schemes."
Naveen, however, remains unfazed with his popularity intact. In fact recently more than 200 activists owing allegiance to an outfit sympathetic to the BJP joined the BJD which keeps going from strength to strength. But the chief minister has warned his colleagues against complacency for it may prove to be their doom as has been the experience of last panchayat polls.