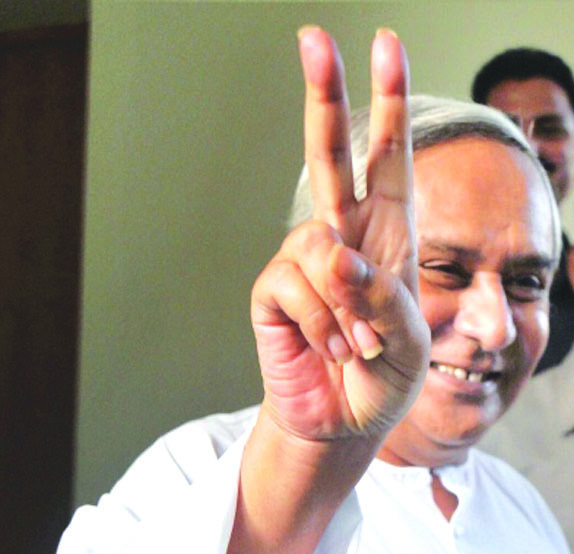 The remarkable victory of BJD in Bijepur is fresh proof of the party's growing popularity under the leadership of chief minister, Naveen Patnaik. He has established himself as an invincible leader who can counter any opposition propaganda through his measures to make the lives of people better. It is a remarkable achievement of which Patnaik and his party can be genuinely proud of.
The landslide victory of Biju Janata Dal (BJD) candidate, Rita Sahu in the recent bye-election from Bijepur has reaffirmed its political supremacy and provided yet another proof of chief minister, Naveen Patnaik's invincibility.
The result has dealt a blow to BJP's ambitions of projecting itself as an alternative to BJD.  Rita trounced her nearest BJP rival, Sanat Gartia by around 98000 votes, a record in Odisha's electoral history. She bettered chief minister, Naveen Patnaik's victory margin of 57,122 in Bijepur only a few months ago, the seat having fallen vacant following his resignation as he opted to retain his pocketborough of Hinjili in his native Ganjam.
The victory came amidst heightened opposition propaganda about chief minister having ditched the people of Bijepur by resigning the seat soon after victory. The campaign, however, failed to make an impact on the voters who, it appeared, had known right from day one that Patnaik would not retain the seat but will take good care of it. Like most political observers, they, too, realized that his candidature from the constituency was more of a strategic move aimed at boosting his party's prospects in western Odisha in the general elections.
But they were more than happy with the glory that chief minister's candidature had brought to the constituency and they basked in it. Never in its history had Bijepur received this  kind of attention even if it was short lived.
Even more important for the people was Patnaik's promise of looking after the constituency as his own at the time of his resignation. They put their trust in his words and voted overwhelmingly in favour of his handpicked candidate, Rita Sahu in the by-poll.
Opposition's campaign failed to carry conviction because of its own poor track record. While the Congress, whose candidate expectedly lost his deposit, has been thoroughly discredited and is currently going through one of its worst phases in the state, the BJP has failed to project itself as a viable alternative to the BJD. The party appears to have suffered a loss of credibility by failing to convincingly raise the issues pertaining to western Odisha of which Bijepur is a part. The grip of the party on the region, which once used to be its stronghold, seems to be slipping because of its inability to build up popular movements on issues like poverty and under-development.
These problems have plagued western Odisha for a long time. The situation has not shown any significant improvement in the last two decades with droughts becoming recurrent and poverty forcing people to migrate to other states in search of jobs. The BJP, which had struck deep roots in the region in the 80s and 90s by highlighting these issues through popular movements, appeared to compromise on them when it ruled the state in tandem with the BJD between 2000 and 2009. That severely eroded its credibility in the eyes of the people in this belt.
If the party still managed to win all the five Lok Sabha seats in western Odisha in the recent elections the credit should go entirely to the individual appeal of Prime Minister, Narendra Modi. The state BJP is yet to regain its credibility and till that happens it cannot aspire to challenge the Naveen Patnaik-led BJD.
On the other hand, Patnaik's credibility has been growing because of his pro-people measures. He recently took a major step by asking ministers to make surprise visits to check the quality of food served to children at schools and orphanages. They have also been instructed to share meals with students in schools and the inmates of orphanages.
Equally significant is the directive that ministers should have lunch at Aahar centres and government-run rehabilitation centres for differently abled during their visits to districts. The obvious aim of these visits would be to check the quality of fare being served at these places because it is food subsidised by the government and ought to be both satisfying and healthy.
The instructions make it clear that these visits should be unannounced and ministers should not be accompanied by more than three to four persons. This is important because politicians are wont to carry their hangers-on during visits to districts. For them this is a way of showing their importance.
There is little doubt that the instructions issued to the ministers is part of government's recently launched Mo Sarkar drive which is an attempt to improve the quality of governance and make people feel that those in power actually care for them. It had begun with a bid to make police people-friendly and hospitals free of  touts, and is now being extended to other areas of governance.
Checking the quality of food at places where it is either being served free or at highly subsidized rates is important from health point of view. Government's own image depends on it because schemes like Aahar and free mid-day meals have earned it a lot of good will which has been translated into votes during the elections.
But in the past there have been complaints galore against the quality of mid-day meal fare. There have been several instances of poor quality food being served and even insects being found in meals. Once it happened in a primary school at Hinjili which happens to be part of chief minister, Naveen Patnaik's constituency.
Such incidents have also taken place in other parts of the state. A few years ago there was public furore over the supply of substandard 'dal' for mid-day meals. It turned into a major political issue and led to the resignation of the then women and child development minister, Pramila Mallick.
Eversince maintaining the quality of mid-day meals has been a sensitive issue with the government because it involves the health of children. With the government initiating schemes like Aahar under which meals at Rs.5 are being provided to people it has become imperative to ensure that the food being served is hygienic. And the chief minister has ensured that it is done. With such initiatives the credibility of his government is bound to grow and Patnaik certain to become more popular.