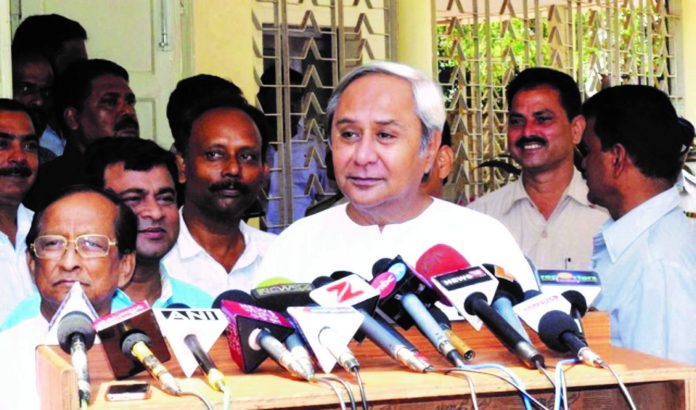 Chief Minister, Naveen Patnaik is facing challenges on several fronts, the most critical ones within his party where dissent seems to be growing but he is a level headed politician who faces challenges with equanimity. If his past record is anything to go by he would emerge successful yet again
These are not easy times for chief minister, Naveen Patnaik. His party, Biju Janata Dal (BJD), failed to do expectedly well in the recent panchayat elections and now despite his warning to party leaders they keep on airing their views and grievances in public.
The latest to question the party's decision of supporting NDA's presidential nominee is Cuttack MP, Bhartruhari Mahtab who in his newspaper column raised some uncomfortable questions. The article has invited criticism but this is unlikely to stop the trend of leaders expressing dissent which is something new to the party which Naveen so far had been ruling with an iron hand.
He is also facing problems on other fronts, the most important of these being the threat from the BJP that seems to have turned aggressive with union minister, Dharmendra Pradhan leading the charge against the state government. His senior ministerial colleague, Jual Oram has been equally vocal.
But if politics is an art,  Naveen has mastered it rather quickly. Eversince his stepped into the political arena willy-nilly in 1997 in the wake of his father, Biju Patnaik's death he has matured immensely. He can now get the better of  his rivals.
His statecraft remains the envy of many with his success showing from the fact that he has won four back to back elections with the margin of victory going up each time. He is perhaps the only politician of the country who has defied the anti-incumbency factory so emphatically.
He is a levelheaded politician; calm in all situations. He is also a determined politician who backs his decisions to the hilt.
As a politician he has proved his critics wrong time and again. When he started out they dismissed him as a rookie and when he surprised them by winning the Lok Sabha by-poll from Aska, the seat that had fallen vacant following his father's death, they derided him as a one-time wonder. While some live to rue those comments others have gone to him in sdack cloth and ashes.
As he took charge as the chief minister for the first time in 2000 attempts were made to arm twist him but he stood firm. Like the captain cool he weathered all storms winning, in the process, applaud from the people who matter to him most.
There are those who argue that Patnaik has never faced a real crisis in his political career. Nothing can be father from the truth. He has been through so many sticky situations but has managed to land on his feet every time.
Two key factors have been responsible for his success as a politician and an administrator – one his whistle clean public image with zero tolerance for corruption and second the pro-poor and pro-people measures initiated by him. Everytime that that he found there was even a whiff of corruption either at the administrative level or within his party he struck immediately and decisively.
He has even dropped ministers irrespective of their status or clout within the ruling Biju Janata Dal (BJD). The latest ministry reshuffle effected by him in the wake of panchayat polls is also being seen as an exercise aimed at increasing the efficiency of the administration.
The opposition has tried every trick in the bag to malign him with allegations of scandals and scams but Patnaik remains Teflon-coated. When the mining scam broke the opposition tried its best to implicate him coming up with all kinds of wild allegations but not a spec of dirt stuck to the chief minister's immaculately white kurta.
People gave a befitting reply to the opposition by trouncing them in the elections and giving decisive verdicts in favour of Patnaik and his party. Eversince there have been other controversies but it is always the opposition that has blinked first.
Patnaik has been a benevolent ruler ensuring the complete well being of his subjects. His welfare measures such as cheap rice scheme, the Aahar yojana and the Harischandra scheme take care of people's needs right from the cradle till grave. To his credit he has kept these schemes going despite the financial constraints faced by his government.
Perhaps the most popular of these schemes has been the rice scheme with its reach right upto the farthest corner of the state where people, especially the tribals live. It is thanks to this particular welfare measure that Odisha's image as a state known for starvation deaths has changed completely.
In the far away tribal districts such as Koraput and Malkangiri the tribals are happy that they are getting rice, their staple food, so cheap. The tribals who find it hard to get work during the monsoon months can now reply on this supply of rice to sustain themselves through this period.
Aahar is also aimed at feeding the poor, specially in the urban areas. The rush at Aahar centres, where meals come incredibly cheap, is to be seen to be believed. He got this scheme going despite lack of support from the central public sector undertakings whose financial aid had been sought as they are based in Odisha and have been earning profits by making use of state's resources. They promised to help initially but withdrew later leaving the state government in the lurch. But Patnaik was determined and asked his officials to go ahead. Today the scheme is running successfully in several parts of the state.
There is no denying the progress made by Odisha under Patnaik's rule. While it has been industrialized with big corporate investing in the state agriculture, too, has moved forward with state government winning the Krishi Karman award from the Centre for its achievements.
On the political front, too, Patnaik has strengthened himself. He has his major rivals, Congress and the BJP, on the ropes though the latter seems to be optimistic about its chances in the 2019 general elections given its improved performance in the last panchayat polls. But it is still far far behind the ruling BJD which seems set to win the next elections and give Patnaik a record fifth term in office.
When Patnaik started out in politics no one gave him a chance. He was not just considered a greenhorn but a rank outsider. To his credit he has proved everyone wrong and established himself as one of the most successful chief minister of the state. Though currently he seems beset with problems his admirers believe he would perform the Houdini act successfully yet again.