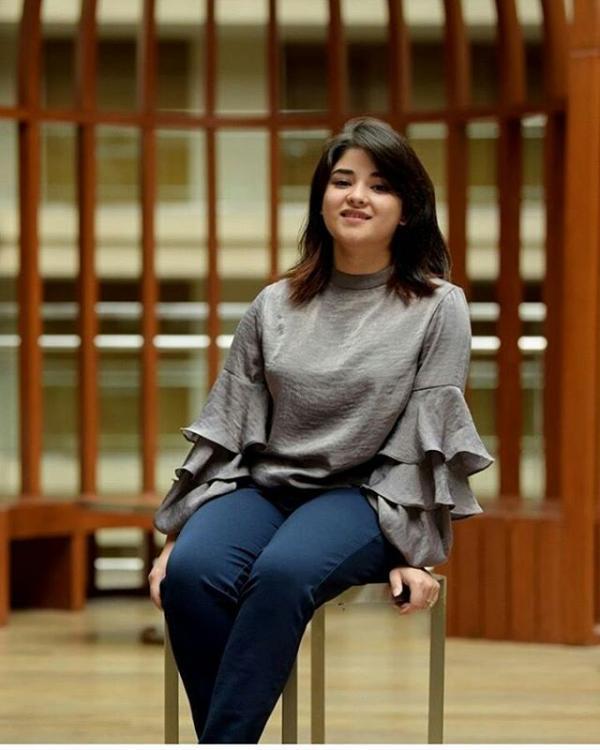 The vitriolic attack on Zaira Wasim is totally uncalled for. She is treated as regressive, when she is well versed in the Quran. If she had referred to the Vedas, would she have become progressive?
Last week, Zaira Wasim, who has acted in just three films, decided to quit Bollywood, and all the hell broke loose.
Trolls became hyperactive in slamming Wasim. Why? Because she linked her decision to quit Bollywood with 'religion' in her social media posts. Her religion happens to be Islam.
"Doesn't matter if two film olds are ungrateful to the industry that have (has) given them all. Just wish they'd exit gracefully and keep their regressive views to themselves," tweeted former Bollywood acress Raveena Tandon.
As usual, rogue elements from the Right flooded the social media with hate and abusive messages against Wasim. But, surprisingly, those supposed to call themselves Leftists too targeted her for her 'regressive' posts. They said Wasim had been pressurised by the fanatics in her religion to take the decision.
Wasim is just 18-year-old; she is a Kashmiri by birth. In 2016 she stormed to national limelight with her superlative performance as young Geeta Phogat, India's medal winning wrestler in Aamir Khan's milestone movie Dangal. Two years later, Aamir Khan produced Secret Superstar about the relationship of a teenage girl and her mother had Wasim in the lead role. The movie went on to be a big hit at the international level. She got the national best supporting award for her Dangal role and Filmfare best actor (critic) award for Secret Super Star.
Recently, Wasim has completed another film The Sky Is Pink starring Farhan Akhtar and Priyanka Chopra.
So it is inevitable that her decision to quit Bollywood surprised many because she was considered as one of finest young actors to watch out in the future. "Five years ago, I made a decision that changed my life and today I'm making another one that'll change my life again and this time for the better Insha'Allah!," she tweeted while attaching her Instagram post with it.
The Instagram post further said: "This field (film career) brought a lot of love, support and applaud my way, but what it also did me was to lead me to a path of ignorance, as I silently and unconsciously transitioned out of my imaan (faith in God). While I continued to work in an environment that consistently interfered with my imaan, my relationship with my religion was threatened,"
In her much longer post on Facebook she talked about life, her emotional struggle, peace and many other things while extensively quoting the Quran. Many of her critics did not like her quoting from the Holy book of the religion as they found it 'regressive'.
This is completely unjustified and the vitriolic attack on Wasim is totally uncalled for. When a girl of her age recites the Gita in college, she is hailed as a genius, how come Wasim becomes regressive when she proves that she is well versed in the Quran? If Wasim had referred to the Vedas, would she have become progressive?
Secondly, going through the posts by Wasim, one feels that she is a sensitive young girl going through a lot of emotional conflicts and pains. Last year too she had posted in social media that she was going through a lot of depression. She may also be feeling lonely, a reason why she is pouring her heart out in her social media account, which many teenagers like are doing these days. In her posts, she has also expressed her concern over sexual assault on children, farmers' suicide, environment and many other problems afflicting the country.    But instead of sympathising with her, people trolled her in the social media. The national TV channels too held debates on the issue with so-called experts pontificating on why she should not have linked 'religion' with her decision to quit Bollywood. Is the fact that she a Muslim, and also a Kashmiri, make her more vulnerable to vicious attacks?
The same social media trolls and national TV channels had profusely praised the family of a super rich diamond merchant of Surat when the whole family including a young daughter decided to become Jain monks. The decision of the family was hailed as supreme sacrifice. Why this hypocrisy?
Zaira Wasim should be left alone and allowed to do whatever she wants to do in life.