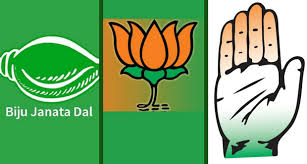 This is election time and turncoats  are ruling the roost. There are defectors in all parties. Some are also getting tickets. The big question is will they make an impact?
Election time is defection time and exodus of leaders from various parties continues. There is problem in the ranks of various parties with ticket distribution sparking off trouble.
There are signs of rebellion in the Biju Janata Dal (BJD) with chief minister and party supremo, Naveen Patnaik, who is seeking a record fifth term in office, denying tickets to as many as seven sitting MPs and 20 sitting MLAs so far. Three of them – Balabhadra Majhi (Nabarangpur), Pratyusha Rajeshwari Singh (Kandhmal) and Arka Kesari Deo (Kalahandi) – have already resigned with the first two joining the Bhartiya Janata Party which has promptly made  Balabhadra its candidate from Nabarangpur pitting him against BJD's Ramesh Majhi.
Similarly, sitting BJD MP from Bhadrak, Arjun Sethi has resigned and joined BJP alongwith his son after being denied ticket. At least five sitting MLAs have resigned with three joining the BJP. One wonders if these turncoats are going to gain anything by joining the saffron party or vice-versa.
In Kandhmal, where Pratyusha had won last time, the BJD has made an interesting choice by fielding educationist-turned-politician, Rajya Sabha member, Achyut Samant, the founder of state's first private university which also runs a special school for tribal children. With Kandhmal having a sizeable tribal population the party hopes to cash in on his good work in the field of tribal education.  Samant has been nurturing the constituency for past sometime.
While in Aska, where the sitting BJD MP, Ladu Kishore Swain had passed away leaving the seat vacant, the party has played the woman card by fielding 68-year-old Pramila Bisoi, a simple village woman credited with launching the self help group (SHG) movement in the state, in Kalahandi Arka Kesari has been replaced with another royal and former minister, Pushpendra Singhdeo. Arka has resigned from BJD but his next move is keenly awaited.
"The changes have been made after carefully planning. A few resignations are not going to affect our prospects," said a senior BJD leader. But there is no denying the feeling of discontent within the party with BJP trying to make the most of it. The saffron party, which had earlier given tickets to BJD discards like former Kendrapara MP, Baijayant Panda and former minister, Damodar Rout, has now fielded some more of these deserters from the ruling party.
Apart from Balabhadra Majhi, who is contesting the Nabarangpur Lok Sabha seat on BJP ticket, the saffron party has made Sundergarh's rebel BJD leader, Kusum Tete its candidate for the Sundergarh assembly seat. Kusum had resigned from the ruling party after it announced the name of Congress turncoat and former MLA, Jogesh Singh as its candidate for the seat.
Resentment in the BJD was equally strong in Jharsuguda where the party has fielded former Congress MLA, Naba Kishore Das. This has upset the supporters of local BJD stalwart and former speaker, Kishore Mohanty who has, however, been placated with a ticket from the neighbouring Brajarajnagar seat.
Of the five sitting BJD MLAs, who have resigned so far, at least three ( the MLAs from Daspalla, Nilgiri and Aska) have already joined the BJP in the hope of landing party tickets. This has, however, not stopped Patnaik from making large-scale changes while selecting party candidates. In the second list of candidates announced by  him  he dropped four sitting MLAs–Prafulla Pangi ( Pottangi), Balabhadra Majhi ( Lanjigarh) Manas Madkami ( Malkangiri) and Jogendra Behera ( Loisingha).
Analysts feel Patnaik is making the right changes at the right time.  " He realizes that his government has been in power in the state for nearly 20 years which is quite a long period during which  some acts of omission and commission to taken place. Fatigue factor may also come into play. Hence a change is necessary," said an analyst.
BJD sources, on the other hand, said they were not bothered about dissent as the party had full faith in Patnaik's charisma. "We have been winning elections in the name of Naveen Patnaik and we will win again under him," said a senior party leader.
The two major opposition parties, Congress and BJP, have also been hit by the phenomenon. While four Congress MLAs–Jogesh Singh ( Sundergarh), Naba Kishore Das (Jharsuguda), Krushna Chandra Sagaria (Koraput) and Prakash Behera (Salipur)—had already resigned with two of them joining BJD and one BJP former party MLA from Bargarh, Sadhu Nepak quit recently after being denied a party ticket. He has also joined BJD. On the other hand sitting party MLA from G Udaygiri, Jacob Pradhan has entered the fray as an independent.
Dissidence has been growing within the BJP, too, with senior leaders like Subhash Chauhan openly expressing their resentment over distribution of tickets. Chauhan, who had lost the Bargarh Lok Sabha seat by a narrow margin last time, hit out against the leadership after being denied ticket from the constituency where the party has fielded its national secretary, Suresh Pujari this time.  He has since joined the BJP. In yet another blow to the BJP, its state vice-president and one of the senior-most leaders from tribal-dominated Mayurbhanj district, Raj Kishore Das recently quit the party and joined the BJD.
From the looks of it there could be more defections from the major parties but the question is whether the turncoats who have been jumping parties will actually be able to make an impact on the polls?