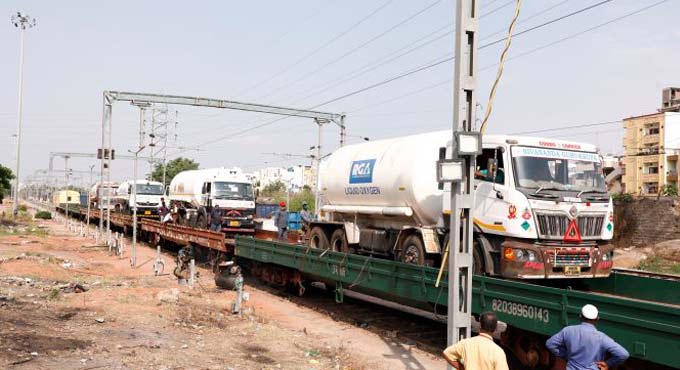 The sudden surge of the 2nd phase of Covid had upset the preparedness. We may tell it a failure of the state governments, corporate hospitals, medical college hospitals and the union government. But the fact is many patients died due to absence of oxygen.
There was hue and cry in the country, particularly in the states like Delhi, Maharashtra and Punjab, that the patients died in Covid hospitals because of shortage of Oxygen. Even people filed PILs in High Courts and Supreme Court of India with prayers to direct the governments to ensure adequate Oxygen supply. There was chaos and confusion in many parts of the entire country apprehending the situation in the absence of this life saving airy gas, if the pandemic spreads further. Therefore, it is required to understand the ground reality.
LMO is manufactured in large plants using cryogenic distillation techniques to compress atmospheric air, feed it into distillation columns and get liquid oxygen. It has 99.5 per cent purity. The liquid oxygen is filled into jumbo tankers for storage, from where special cryogenic tankers, that maintain temperatures of minus180 degrees Celsius, travel hundreds of kilometres to smaller distributors in the hinterland. The distributors convert liquid oxygen into gaseous form, compress it, feed it into cylinders and transport them to the hospitals. Some stock is sold to local vendors, who supply to home patients.
In India we have 1,172 oxygen cryogenic tankers for road transport. The tankers served the purpose well until before the pandemic, but now they are scarce and take painfully long to cover hundreds of kilometres. India is converting tankers for nitrogen and argon into oxygen-carrying vehicles. It's also importing tankers, manufacturing new ones, and using the IAF Cargo aircrafts to airlift empty ones to speed up one-way travel. To speed up oxygen delivery, trains have also been pressed into service to ferry tankers.
On April 23, the first rake from Visakhapatnam travelled with 105 MT LMO to Nagpur, offloaded three tankers, and sped to Nashik to supply four tankers. Several Steel plants from Odisha, directed by the government of India, followed Visakhapatnam, produced LMO and supplied to the needy states. With several states reaching full utilisation of their oxygen production capacity, they have been relying on the Centre to divert oxygen from states that have surplus. During last week of April, Delhi, Uttar Pradesh, Haryana and Gujarat complained of less allocation than their daily requirement. Karnataka, Rajasthan, Maharashtra are scraping the bottom of their oxygen barrels. Transporting oxygen over long distances, especially to rural and remote parts, was the bigger problem.
India tapped all available resources. With supply to industries cut since April 18, oxygen produced in iron and steel plants was diverted for medical use and industrial oxygen manufacturers being encouraged to produce medical oxygen. With these measures, LMO capacity increased by 3,300 MT. The Health Ministry has also sanctioned the installation of 162 Pressure Swing Absorption (PSA) plants to directly use atmospheric air and separate it under pressure to filter out nitrogen. The oxygen that remains is compressed and fed into oxygen pipelines.
Since the nationwide lockdown was first announced in March 2020, the Empowered Group 2 was constituted. The Group had estimated that 12 states will require a total of 4,880 MT, 5619 MT and 6,593 MT on 20 April, 25 April and 30 April, respectively. Sources of medical oxygen and their production capacity were mapped to match the requirement of states and an indicative framework has been developed to guide the states on the sources of medical oxygen. The biggest challenge was transporting oxygen from the eastern and southern states, where demand isn't growing as quickly to the northern and western states, which are struggling for supplies.
The sudden surge of the 2nd phase of Covid had upset the preparedness. We may tell it a failure of the state governments, corporate hospitals, medical college hospitals and the union government. But the fact is many patients died due to absence of oxygen.
The oxygen shortage in India, causing death of covid patients has drawn the attention of the media around the world. A French daily 'Charlie Hebdo' in its April 28 issue published a cartoon with a French headline caption – ''33 million Gods in India; And not one capable of producing oxygen''. May be it was the foolish, savage like mindset of the cartoonist with prejudiced mind to satire Hindu community, who believe existence of 330 million Gods. Hindus also believe in universal health and treat the mankind as one family. One may continue to be Hindu even without believing in the existence of God. But the cartoonist was ignorant of the soul of India. He mocked at our belief of worship. The newspaper also printed it. The French government has neither censured the newspaper nor the editor begged apology. They must remember, in a multi-religion country like India, only Hindu patients were not dead. Even Allah and Jesus or mother Merry could not come to the rescue of other patients, who died due to oxygen shortage.
A pandemic has upset the whole world. Time has come to fight the pandemic and save the life of human beings, wherever they stay. Mocking at any religion, belief of prayers is to be condemned at any cost. It is a proof of intellectual poverty of the newspaper.