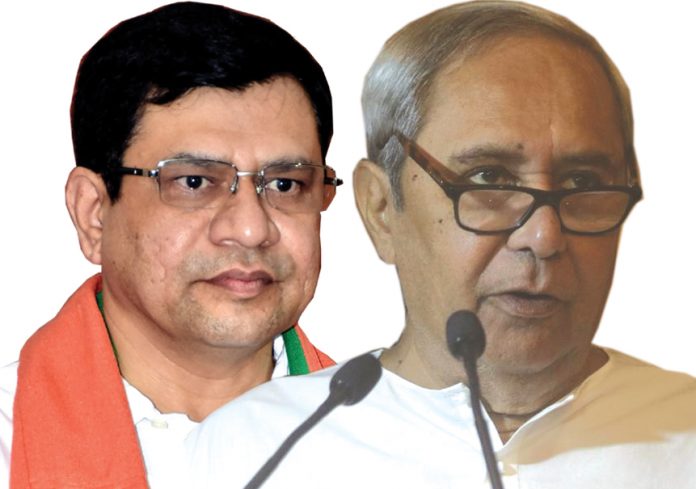 BJD's support for BJP Rajya Sabha candidate Ashwini Vaishnav was interpreted by many as a sign of renewed bonhomie between the two parties. The BJD had apparently made a sacrifice by backing Vaishnav. But the friendship received a blow when the Centre decided to grant two-year extension for work on Polavaram project.
Some interesting political developments have taken place in recent days. One Such development was ruling Biju Janata Dal's support for BJP candidate, Ashwini Vaishnav in the Rajya Sabha.
One saw on TV visuals of Biju Janata Dal and BJP candidates filing their nominations for the Rajya Sabha by-poll together in the state assembly. It made many political observers conclude that bonhomie is back between the two parties which had parted ways after ruling the state in tandem for more than nine years.
But even if it is seen as a sign of the two parties coming closer it reflects nothing but sheer political opportunism as the two parties are still poles apart in terms of ideology. Chief minister and BJD supremo, Naveen Patnaik, who had dumped the BJP in 2009 in the wake of Kandhamal riots, would find the change in his stand towards the saffron party hard to justify.
Patnaik seems to have softened towards the BJP following his recent meeting with Prime Minister, Narendra Modi in New Delhi. Modi, it appears, dangled the carrot of generous central assistance to Odisha and Lok Sabha deputy speaker's post for the BJD before Patnaik to seal the Rajya Sabha deal. The excuse for Patnaik in extending support to the candidature of BJP candidate, Ashwini Vaishnav was that he had served Odisha and was also the private secretary to former Prime Minister, Atal Bihari Vajpayee who is respected across the political spectrum.
Patnaik has made a great sacrifice in backing the candidature of Vaishnav who goes to the Rajya Sabha on a seat which could easily have been BJD's. This, in effect, means an increase in the strength of BJP at the cost of BJD.
So it can be assumed that Patnaik would demand his pound of flesh for that. He should, in all probability, insist on Centre granting special category state status to Odisha and positively intervening on its behalf to resolve the Mahanadi and Polavaram disputes in its favour. None of this is going to be easy.
While Modi dispensation has been extremely reluctant to accord special status to states, insisting instead on special packages, Polavaram dispute would be hard to resolve because it involves the interest of Andhra Pradesh whose chief minister, Jagan Mohan Reddy has been friendly towards the NDA and whose support Modi requires as much as he needs Naveen.
As for the Mahanadi dispute the Centre was openly partisan in the matter, favouring Chhatisgarh when BJP government was in power in that state. Now that a Congress government is in power in Chhatisgarh and the matter is before a tribunal, which has asked both the states to settle the issue amicably, one wonders what the role of Centre would be.
Given this backdrop one may feel tempted to believe critics of Patnaik who have argued that the fear of CBI, which is probing the chit fund scam, has led the chief minister to kowtow before the Prime Minister and support BJP candidate in the Rajya Sabha.
It is significant to note that Patnaik, like he had done in the past, continues to maintain a safe distance from the state BJP leaders who are watching the renewed friendship between the chief minister and their central leaders with a sense of chagrin.
Interestingly within days of Patnaik's support for Vaishanav the union environment ministry dealt him a blow. It decided to grant a two-year extension for the construction of Polavaram multi-purpose project in Andhra Pradesh which is a major embarrassment for the Naveen Patnaik-led Biju Janata Dal (BJD) government which has been opposing the dam that threatens to submerge several tribal villages in Malkangiri district.
The discomfiture of Patnaik can be understood as the development in the wake of BJD extending support BJP's Rajya Sabha candidate, former IAS officer, Ashwini Vaishnav. It was supposed to be a quid pro quo with hopes running high in the state's ruling dispensation that Odisha's interests on issues like Polavaram and Mahanadi would be taken care of by the BJP-led NDA government.
Prime Minister, Narendra Modi, however, seems to have lent a sympathetic ear to Andhra Pradesh chief minister, Jaganmohan Reddy's demand for expediting work on Polavaram as the support of YSR Congress is apparently more crucial to the NDA government.
Polvaram project has a chequered history. In 2011, the then union government had asked the Andhra Pradesh government to stop its construction. But in 2014, the NDA government declared Polavaram a national project and the 'stop work order' was kept in abeyance to allow construction. Now a two-year extension has been granted by keeping the 'stop work order' in abeyance again.
The project is considered important for Andhra Pradesh as it will irrigate nearly 3 lakh hectares of land, generate hydro power with an installed capacity of 960 MW and provide drinking water to 540 villages covering a population of 25 lakh in Visakhapatnam, East Godavari and West Godavari and Krishna districts. Reddy's predecessor, Chandrababu Naidu had also pursued the project vigorously despite objections from Odisha.
Last year chief minister, Naveen Patnaik had demanded immediate stoppage of project work till the issues pertaining to Odisha were resolved. "If the project is completed before resolution of all the pending issues then it will lead to a situation which will permanently affect a large number of tribal people in Odisha," he had said in a letter to the Centre.
Patnaik had argued that the construction of the project was in violation of the Godavari Water Dispute Tribunal (GWDT) and it was being carried on without correctly assessing the back-water extent in Sabari and Sileru rivers in Odisha.
Odisha, which had moved Supreme Court over the issue, also claimed that Environmental Clearance (EC) granted to the project in 2005 was invalid as no public hearing was conducted in Malkangiri district which would be severely affected by the project in its present form.
Given this backdrop the decision of the environment ministry to extend the construction period of the project by two years comes as a major blow to Odisha government. But this is what politics is all about. Here nothing but interests rule.