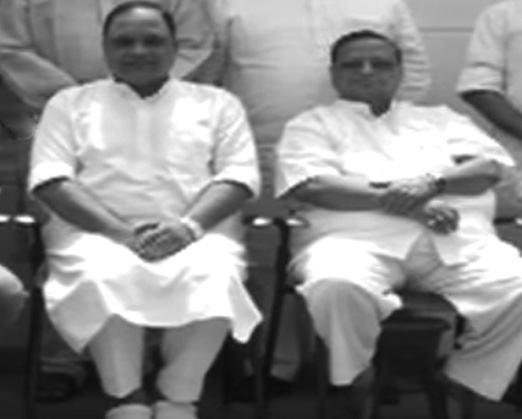 The Congress Party is once again using the formula of collective responsibility. The AICC had constituted a six-member panel to select its candidate for the Bijepur assembly seat and to run the party efficiently in Odisha.
If sources are to be believed the AICC is planning to experiment with the collective responsibility formula to run the party efficiently in Odisha.
The plan, said sources, was to appoint three working presidents in the state Congress to ensure peace between the warring factions, specially Pradesh Congress Committee (PCC) chief, Prasad Harichandan and the Congress Legislature party (CLP).
Sources said AICC has approved the plan and efforts were on to persuade former PCC chief, Niranjan Patnaik to accept new changes in the party structure.  Though the AICC had offered him the post of the chief of the PCC election campaign committee, he has reportedly declined it. Several party MLAs want him to replace Harichandan.
The high command reportedly plans to appoint Congress legislature party (CLP) deputy leader Chiranjeev Biswal, Party MLA Naba Kishore Das and former MP from Nabarangpur Pradeep Majhi as the chairmen of the central, western and southern zones of the state for the party. They will work along with Harichandan on the principle of collective responsibility. The three leaders had met senior Congress leader Kamal Nath and observer for the party for Odisha Jitendra Singh in Delhi.
The AICC hopes that by picking Biswal and Das, it would succeed in creating a division among its 16 MLAs who have been consistently demanding the appointment of Patnaik in place of Harichandan.While Biswal family enjoys clout in the coastal belt, Das had managed to save the party in Jharsuguda in the last panchayat election. Majhi, a tribal, has considerable influence among the tribals in Southern Odisha.
On the other hand, efforts are being made to persuade Niranjan Patanik, who was unceremoniously removed from the post of PCC chief just ahead of 2014 election, to accept such an arrangement. Though he is reportedly keen to be the PCC president his detractors have managed to convince the leadership that as his family has interests in the mining sector he should not lead the party, said sources.
As Patnaik has declined to lead the campaign committee, the party plans to appoint former union minister Bhakta Charan Das on the post.
It was once again using the formula of collective responsibility that the AICC had constituted a six-member panel to select its candidate for the Bijepur assembly seat.  Former Chief Minister Hemananda Biswal led the committee while Jagannath Patnaik was its convener. Senior leaders Sarat Patnaik, Naba Das, Bhakta Charan Das and Bargarh District Congress Committee president Anantasayana Padhi were the members of the committee.Pratisruti PlusFebruary16-28-2018