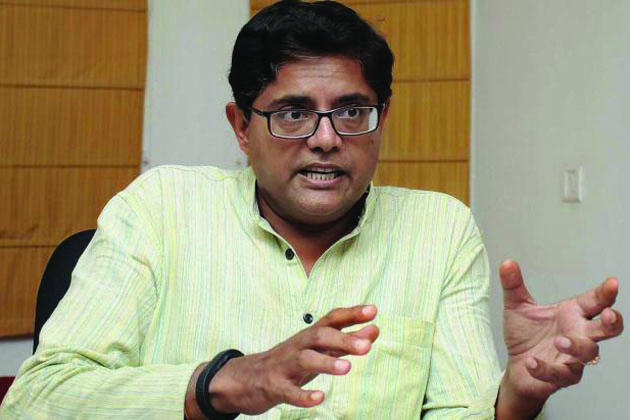 Many possibilities are being discussed in the wake of BJD MP, Baijayant Panda's resignation from the party. Coming at a time when the general elections are barely a year away it is being viewed as an opportunity by major opposition parties. Panda, however, is yet to open his cards.
Political situation in the state has taken an interesting turn with high profile Kendrapara MP, Baijayant 'Jay' Panda, who had been suspended from the ruling Biju Janata Dal (BJD) in January for alleged " anti-party" activities, quitting  the party citing " deep anguish" and " hurt" at being deliberately ignored and humiliated.
Significantly, the resignation comes barely two days after Prime Minister, Narendra Modi's highly successful rally at Cuttack to mark the fourth anniversary of his government. Both BJP and Congress have declared that their doors are open for the MP who has also announced that he would be stepping down as a Lok Sabha member from Kendrapara once the last rites of his father, industry doyen, Bansidhar Panda, who passed away recently, were complete.
In fact chief minister, Naveen Patnaik skipping a visit to his residence to pay his respects to Bansidhar Panda, who was close to Naveen's father, Biju Patnaik, is said to be the last straw that made the MP quit the party he had helped found. Bansidhar breathed his last on May 22.
In a letter to BJD President and Chief Minister Naveen Patnaik, the four-time MP (twice Rajya Sabha 2000-2009 and twice Lok Sabha) poured his heart out. "It is with deep anguish, hurt and sorrow that I have decided to quit the kind of politics into which our BJD has descended," wrote the 54-year-old leader who was the most visible face of BJD in Delhi's media and elite circles.
In his three-page letter, Panda said, "Although things have been going from bad to worse for the past four years, it has plumbed the absolute depths of inhumanity when neither you nor anyone from the BJD turned up to pay their last respects to my father Dr Bansidhar Panda, who as everyone knows was a very close friend, supporter and associate of Biju Uncle for many decades."
Panda alleged that BJD leaders were restrained from coming to the pay their last respects to his father. " I have stoically borne many humiliations over the past four years, but this is the last straw, is now beyond my self-respect to continue to be associated with the party in an atmosphere as mean minded as this."
BJD leaders refused to react. Party vice-president Debi Mishra said "The party will not react at this moment as the 11-day rituals ( of Bansidhar Panda) are  on."
Panda made it clear that he would convey his decision formally to the Speaker of the Lok Sabha to accept his resignation from the membership of the Lok Sabha "upon completion of the religious obligations of bereavement."
Following his resignation there is intense speculation over his fate and the fate of Kendrapara Lok Sabha seat. Political observers feel that as the general election is almost a year away, the vacancy on the seat may lead to a bye-election which would have to be held within six months. However, the Election Commission could also take a negative view as a bye-election quickly followed by a general election would mean extra expenditure.
Though Panda is yet to open his cards speculation is rife that given his extremely friendly relations with the top BJP leadership he may join the saffron party to take on the BJD in the politically sensitive Kendrapara district.
For the moment, however, the focus is on the MP's resignation and his jeremiad. Panda, in his letter, described how he was drafted into politics by Biju Patnaik and sought to emphasize the fact that he was one of the founding members of Biju Janata Dal who had stood by Naveen Patnaik when the party parliamentary party had spilt in 2002 and the party faced a split following an alleged coup against Naveen on May 29, 2012.
"It is ironic that many of the worst opponents and critics of you during our party's first dozen years are now holding key positions in the party, while most of those who struggled with you to overcome them have been discarded," he said in the letter.
Panda who was the face of Naveen in New Delhi, landed in trouble after he allegedly developed closeness with BJP and heaped praises on  Prime Minister Narendra Modi.
His relations with the Party became strained after he wrote a column in a local newspaper in which he had argued for BJD engaging in introspection following the party's not so good performance in the last panchayat elections. He had talked about party forgetting its original strengths and descending into  goondaism and corruption.
The relationship of Panda with the party soured further after he was pelted with stones, bricks and eggs while going to inaugurate a water tank built with his MPLAD fund in the Mahanga area in May last year. Panda had accused health minister Pratap Jena, the MLA from Mahanga, of orchestrating the attack.  The government had delayed action against the culprits. "I was extremely saddened that even then you did not bother to call to inquire about my health and safety, nor even when we met several times thereafter at party forums," he said.
Relations between Panda and the chief minister became irreconcilably strained following allegations that the TV channel owned his family was deliberately targeting chief minister's office and his private secretary VK Pandian. This apparently did not go down well with the chief minister who was infuriated when Pandian's house was attacked by a group of BJP workers. For Naveen, who suspended Panda soon after, his was the last straw. Now the resignation of the MP has brought the curtain down on a saga of a splendid friendship turning sour with politics overshadowing personal relations.