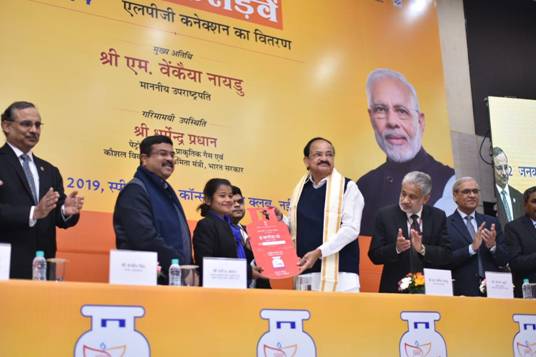 Hon'ble Vice President Shri M. Venkaiah Naidu  todayhanded over 6 croreth LPG connection under Pradhan MantriUjjwalaYojana (PMUY) to Smt Jasmina Khatoon from Shivpark, Khanpur, Delhi. Minister of Petroleum and Natural Gas & Skill Development and Entrepreneurship Shri Dharmendra Pradhan was present on the occasion. Many other beneficiaries were also provided with the connection under the scheme.
Hon'ble Vice President acknowledging the vision of Prime Minister Shri Narendra Modi and guidance of Shri Dharmendra Pradhan, appreciated the collective efforts of the officials of Ministry and the Oil Marketing Companies in achieving the target of 6 crore. Describing it as amomentous occasion, he said that PMUY endeavors to fulfill the dream of the Father of the Nation Mahatma Gandhi to benefit the poor persons, the persons in the last row of the society. Shri Naidu said that Indian economy is striving fast to become 3rd largest economy of the world, and the schemes like PMUY deal with the social aspect of the growth story, by its inclusiveness. He said that the Prime Minister has called for 'Reform, Perform and Transform' and this initiative of the Ministry of Petroleum and Natural Gas is a giant step in transforming the lives of the people. It not only tackles the health and environmental problems due to household smoke, but also empowers the women and restores control to them over their destiny. The Vice President described it as revolution in peaceful manner. He congratulated all the stakeholders in achieving the target, well before the schedule.
Minister of Petroleum and Natural Gas & Skill Development and Entrepreneurship Shri Dharmendra Pradhan said that in the fifty years since the launch of LPG, only 13 crore connections were provided while in the last 54 months, almost similar number of connections have been provided by this government. He said that coverage of LPG connections has jumped from 55% in 204 to 90% now. Shri Pradhan said that almost 80% beneficiaries under the PMUY have been refilling the cylinders. He said that the PMUY has been hailed by the international organizations and developed countries while it has set an example for the developing countries of the world.
In order to provide clean cooking fuel to BPL households in the country, the Government has launched "Pradhan Mantri Ujjwala Yojana"(PMUY) scheme to provide 5 Crore deposit-free LPG connections to women belonging to the Below Poverty Line (BPL) families, which were subsequently increased to 8 Crore with a budgetary allocation of Rs. 12800 crore.
Universal PMUY now covers release of LPG connections under Pradhan MantriUjjwalaYojana (PMUY) to all poor on account of their names not been covered in earlier identified categories like identified through Socio Economic Caste Census (SECC) list and in case the names are not appearing in the SECC list, beneficiaries are identified from categories i.e. SC/STs households, beneficiaries of Pradhan Mantri Awas Yojana (PMAY (Gramin), Antodaya Anna Yojana (AAY), Forest dwellers, Most backward Classes (MBC), Tea & Ex-Tea Garden Tribes and people residing in Islands/ river islands.The initial target of 5 crore connections was achieved well before the target i.e.31st March, 2019.
Implementation of PMUY has resulted in significant increase in national LPG coverage, in general and Eastern States, in particular. The scheme has resulted in mass coverage of rural poor households and 48% of the beneficiaries are SC/STs.While 74% beneficiaries under the scheme, who could not afford to make upfront payment for purchase of gas stove and first refill, were provided loan facility by the OMCs. It is significant to mention that under the PMUY the average per capita consumption is 3.28. This should be seen as a positive change in the lives of these households which were long dependent on the traditional cooking fuels and methods.
LPG Panchayats are being observed to promote learning through peer group interaction – Kuch Seekhein, Kuch Sikhayein, where apart from experience sharing, it also aims at safe and sustained usage of LPG. OMCs as on date have conducted 59,960 nos. of LPG Panchayats and safety clinics for education and awareness programs among PMUY beneficiaries.
As on 01.12.2018, there are 22639 LPG distributorships at industry level. With a view to strengthen the LPG distribution infrastructure, Oil Marketing Companies (OMCs) have plans to add 835 distributors by March, 2019 across the country.To make LPG affordable to poor families, OMCs have introduced 5 Kg refill option to Ujjwala beneficiaries where in Ujjwala beneficiary can swap 14.2 Kg cylinder with 5 Kg refill and vice versa. 1,33,869nos. of beneficiaries have taken advantage of this scheme as on 31.12.2018.The OMCs have also given loan recovery deferment upto six refills or one year w.e.f.01.04.18 for the PMUY beneficiaries who have availed loan facility for hotplate or first refill or both.
PMUY implementation has been appreciated by the World Health Organization (WHO) and termed it as a decisive intervention to check the indoor health pollution being faced by the women of the country.