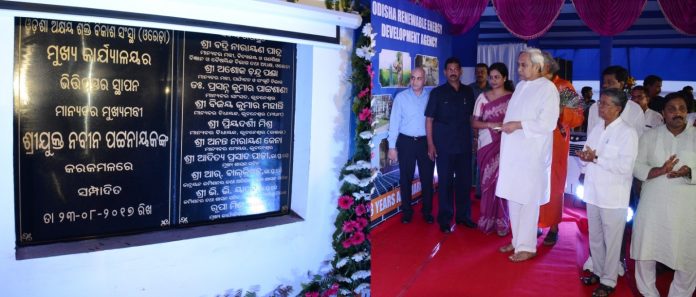 Chief Minister Naveen Patnaik inaugurated Odisha Renewable Energy Development Agency (OREDA) office building situated near the Mancheswar Industrial Estate, Bhubaneswar. The Odisha Renewable Energy Development Agency (OREDA) was constituted as a state Nodal agency in the 1984 under aegis of dept of Science and Technology. Within these 33 years, OREDA state has organised many Renewable Energy activities like drinking water facilities through solar energy and water supply for irrigation purpose, electricity facilities through solar plants both in schools and villages along with the street lights, facilitated solar lanterns for the handicraft makers.
In this auspicious ceremony Badrinarayan Patra Minister, school & Mass Education, Science & Technology and chairman, OREDA, Ashok Chandra Panda Minister, Tourism & Culture, Dr. Prasanna Kumar Patsani MP, Bhubaneswar, Bijaya Kumar Mohanty MLA from Bhubaneswar (Central), Priyadarshi Mishra MLA from Bhubaneswar (North), Ananta Narayan Jena Mayor, B.M.C , Chief Secretary Aditya Prasad Pradhi,  and senior officers of the state government including R. Balakrushna, V V Yadav, Roopa Mishra.
For the building construction, autoclaved aerated concrete block will be used, which will manage the outer heat and control inner temperature. Apart from this, one 100kW solar roof top is planed which will save up to 34320kW Electricity per year. OREDA aims to be the Net Plus Power very soon. 2081 square Meter has been allotted for this entire project at Mancheswar Industrial Estate along with the budget of Rs.10.87 Crores.